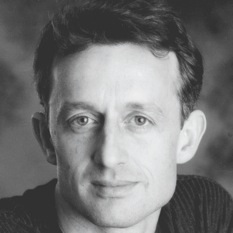 The Place of Science Writing in Literary Journalism
BURKHARD BILGER
FRIDAY, NOVEMBER 16, 2012
LUNCHEON 11:30 a.m.; LECTURE 12:00 p.m.
Burkhard Bilger was a senior editor at Discover from 1999 to 2005. Before that, he worked as a writer and deputy editor for The Sciences, where his work helped earn two National Magazine Awards and six nominations.

Bilger's work has also appeared in The Atlantic Monthly, Harper's, The New York Times, the New York Times Book Review, and numerous other publications, and has been anthologized in The Best American Sports Writing, Best Food Writing, and three times in The Best American Science and Nature Writing.
Burkhard Bilger has been a staff writer at The New Yorker since 2001. His articles have focused on food, science, and American subcultures, and have included essays on the mysteries of time perception and the enigma of American stature (why are we smaller than Europeans?), as well as portraits of gem dealers in Madagascar, short-order cooks in Las Vegas, and a cheese-making nun in Connecticut. He continues to explore many of these topics in his first book, Noodling for Flatheads: Moonshine, Monster Catfish, and Other Southern Comforts (2000), which was a finalist for the PEN/Martha Albrand Award for First Nonfiction. His book narrates his own journey through the South, exploring time-honored traditions as moonshining and cockfighting, coonhunting and, of course – "noodling." Noodling, by the way, is the act of sticking your hand into the water and letting a catfish grab it, then yanking the fish out of the water.

Bilger is also co-author of The Best American Science & Nature Writing (2001). His talk will discuss the place of science writing in literary journalism and is sponsored by CMC's Center for Writing and Public Discourse.