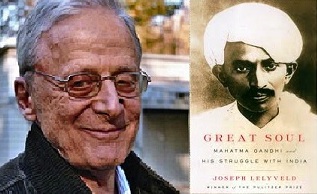 Great Soul: Mahatma Gandhi and His Struggle with India
JOSEPH LELYVELD
MONDAY, NOVEMBER 19, 2012
Joseph Lelyveld worked at The New York Times for nearly 40 years, ascending its ranks to serve as its executive editor from 1994-2001.

After graduating from Harvard in 1958, he received a Master's degree from the Columbia School of Journalism in 1960, and subsequently a Fulbright Scholarship. He then joined the Times. He went from copy editor to foreign correspondent in just three years, and received an award in 1971 for his education reporting, and a 1983 award for his foreign reporting. He has served as foreign editor of the NYT, and as its managing editor.

His newest book, the topic of his discussion at the Athenaeum, is Great Soul: Mahatma Gandhi and His Struggle with India, published last year. The book has earned praise as being "judicious and thoughtful", yet also deep and complex for those who have only a rudimentary knowledge of Gandhi's life.

Great Soul also stirred up controversy as some thought the book insinuated that Gandhi was bisexual or homosexual. Lelyveld has denied this, and has said that this is a misinterpretation of the admittedly close relationship between Gandhi and one of his disciples, bodybuilder Hermann Kallenbach.

Lelyveld's is the author of other works, and his book entitled Move Your Shadow: South Africa, Black and White (1985) won the Pultizer Prize for General non-fiction in 1986. The book was based on Lelyveld's reporting from South Africa in the 1960s and 1980s, and explores the country's racial policies and reform processes.

This lecture by Joseph Lelyveld is made possible by the generosity of CMC alumnus L. J. Kutten '74.