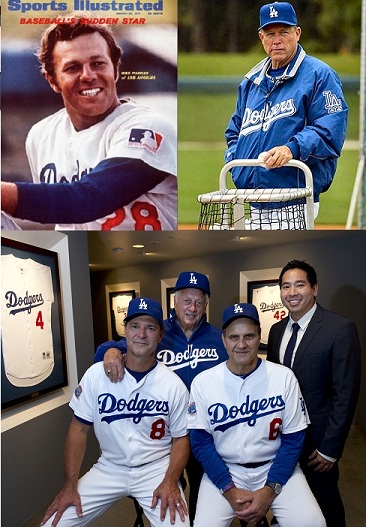 The Business of Baseball
WES PARKER '62
SCOTT AKASAKI '98
JIM COLBURN
TUESDAY, NOVEMBER 20, 2012
Baseball has become a big business. To begin to understand what this great sport has meant to the nation and what it may become in the future, it is necessary to take a look at the business of baseball. Business decisions have brought us free agency, the M.L.B. Players Association, long term contracts, and exorbitant signing bonuses. The business of the sport has also begun to look beyond America and has become increasingly international in its appeal. To help flesh out major trends in baseball which follow from these business decisions, the Athenaeum has assembled a panel of prominent baseball professionals to represent the perspectives of players, coaches, and general managers. Topics will range from how players have changed to personal experiences getting into the profession.

Scott Akasaki enters his ninth season with the Dodgers and third as director of team travel. The previous six seasons he was manager of team travel following five seasons in the club's Asian Operations Department, most recently as the manager of Japanese Affairs. Akasaki, 36, was the first Asian-American to be named to the post in Major League history and is just the fifth team travel representative for the Dodgers since they moved to Los Angeles in 1958.

Wes Parker, a 1962 CMC alumnus, was the first baseman for the Los Angeles Dodgers from 1964 to 1972 and earned Gold Gloves for fielding his last six years in the Majors. He retired as the finest fielding first baseman ever by both reputation and percentage. He was also the team's rookie of the year and MVP in 1970.

James Colborn pitched 10 years in the majors with the Chicago Cubs, Milwaukee, Kansas City and Seattle. He was selected to the American League All-Star team in 1973; in 1975 he pitched a no-hitter for the Royals. He retired as an active player in 1979, but remained a star in coaching circles, starting his career with the Chicago Cubs. Colburn served as a pitching coach for the Los Angeles Dodgers and for the Pittsburgh Pirates. Colborn now has the Jim Colborn Baseball League.

Special tribute is given to Claremont-Mudd-Scripps founding athletics director and longtime baseball coach, Bill Arce. Beginning in 1962, he used sabbaticals and summer vacations to develop baseball in various European countries including Holland and Italy, two countries for whom he coached teams to European championships. He is now widely recognized as one of the great ambassadors of the game.