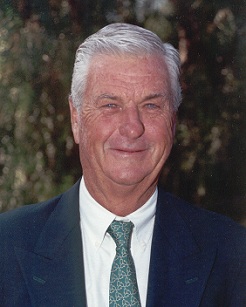 Lunch with a Leader: Entrepreneurism
GARY BISZANTZ '56 P'08
FRIDAY, DECEMBER 7, 2012
LUNCHEON 11:30 a.m.; LECTURE 12:00 p.m.
Gary Biszantz is the former chairman of Cobra Golf, Inc., a manufacturer of graphite-shafted golf clubs with factories and offices in Carlsbad. Mr. Biszantz began his career as a car sales representative in 1957 and quickly became general sales manager. In 1969, he built his own dealership, El Rancho Ford in Poway, and ran it successfully until the mid-1980s when he sold it due to the expansion of Cobra Golf, which he then co-owned. As chairman of the board of Cobra, he provided strategic planning and general management services to the company, which grew into the country's second-largest manufacturer of premium oversized golf clubs.

After selling his company to American Brands in 1996, Mr. Biszantz turned his time and talent to one of his lifelong passions: thoroughbred racing. Committed to improving racing, he has served on the Executive Committee and Graded Stakes Committee of the Thoroughbred Owners and Breeders Association, and also served on the board of the Breeders' Cup.

Mr. Biszantz was introduced to racing through his father, and has owned horses since 1956. He currently owns Cobra Farm which is located in Lexington, Kentucky, and through the end of 2011, his horses have won over 400 races while finishing in the money over 50% of the time.

Biszantz's philanthropic record is as impressive as his entrepreneurial success. Through the Biszantz Charitable Foundation, he has supported numerous children's activities as well as the creation of the Biszantz Family Tennis Center at CMC.

Mr. Biszantz holds a B.A. in business administration from Claremont McKenna College and serves as a life trustee on the Board of Trustees at CMC. He received CMC's George C.S. Benson Distinguished Achievement Award in 2006.