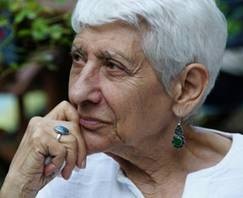 Sex, Race, and Class: The Perspective of Winning
SELMA JAMES
WEDNESDAY, NOVEMBER 28, 2012
LUNCHEON 11:30 a.m.; LECTURE 12:00 p.m.
Selma James is an anti-sexist, anti-racist, anti-capitalist campaigner and author. Raised in a movement household, she joined C.L.R. James's Johnson-Forest Tendency at age 15, and from 1958 to 1962 she worked with him in the movement for Caribbean federation and independence. In 1972, she founded the International Wages for Housework Campaign, and in 2000 she helped launch the Global Women's Strike which she coordinates. She coined the word "unwaged" to describe most of the caring work women do, and it has since entered the English language to describe all the work without wages of women, children and men, in the home, on the land, in the community.

In 1975 James became the first spokeswoman of the English Collective of Prostitutes. She is a founding member of the International Jewish Anti-Zionist Network (2008). She has addressed the power relations within the working class movement, and organizing across sectors despite divisions of sex, race, age, etc., South and North. She spoke to packed audiences at Occupy in London, England, as well as Los Angeles, Oakland, Philadelphia, and San Francisco.

Since 2000 James has been international coordinator of the Global Women's Strike, a network of grassroots women, bringing together actions and initiatives in many countries. The Strike demands that society "Invest in Caring Not Killing", and that military budgets be returned to the community starting with women, the main caregivers everywhere. She has been working with the Venezuelan Revolution since 2002.

James lectures in the UK, U.S. and other countries on a wide range of topics including, "What the Marxists Never Told Us about Marx", "The Internationalist Jewish Tradition", "Rediscovering Nyerere's Tanzania", "CLR James as a political organizer", and "Sex, Race & Class". Her presentation at the Athenaeum is co-sponsored by Intercollegiate Women's Studies of the Claremont Colleges and the Marian Miner Cook Athenaeum at CMC.