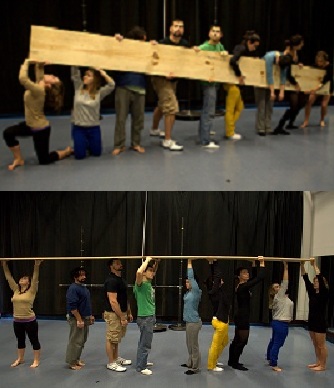 Broken Borders/"earth's imagined corners"
STUDENTS IN THEATRE 50: COLLECTIVE CREATION
THOMAS LEABHART, director
THURSDAY, NOVEMBER 29, 2012
A new collective creation based on immigration and border crossing - mental, spiritual and geographic. Voluntary or involuntary immigration concerns, or even preoccupies, many people in the world today. In the United States, as almost everyone or their ancestors came here seeking a new life, a new start in a new world, we are predominately a nation of immigrants. Many broke the borders of what John Donne calls "earth's imagined corners" to assert its innate roundness, and their innate wholeness: their right to travel over earth searching for home. Student actors in Thomas Leabhart's Collective Creation class (Theatre 50) interviewed subjects, posing questions about physical and mental border crossing, and using documentary theatre techniques (sometimes known as "verbatim theatre") devised by Anna Deavere Smith to create a performance based on these interviews. A performance rich in music, stories, and movement.