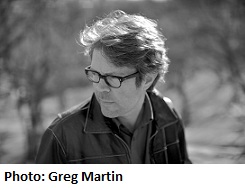 An Evening with the Author
JONATHAN FRANZEN
WEDNESDAY, JANUARY 23, 2013
When
The Corrections
was published in the fall of 2001, Jonathan Franzen was probably better known for his nonfiction than for the two novels he had already published. In an essay he wrote for
Harper's
in 1996,
The Corrections
was an enormous international bestseller, with translations in 35 languages, American hardcover sales of nearly one million copies and nominations for nearly every major book prize in the country – Franzen was awarded the National Book Award for this novel. As if sales and critical acclaim weren't enough to boost his profile, the author found himself in a public relations imbroglio over his conflicted reaction to his book's endorsement by Oprah's Book Club.
Jonathan Franzen's first novel,
The Twenty-Seventh City
(1988), was a reimagination of his hometown, St. Louis, through the eyes of conspirators and terrorists from southern Asia. His second novel,
Strong Motion
(1992), was a thriller-cum-love-story set in the student slums of Boston. Both books displayed Franzen's ability to connect the personal and the political, the emotional and the social, in compelling and richly textured narratives.
After graduating from Swarthmore College in 1981 he studied in Berlin as a Fulbright scholar and later worked in a seismology lab at Harvard. Franzen is also the author of a bestselling collection of essays,
How to Be Alone
(2003) and the memoir
The Discomfort Zone: A Personal History
(2007). He recently published a new English translation of the play
Spring Awakening
(2007) by Frank Wedekind. He has written the New York chapter of Matt Weiland and Sean Wilsey's 2008 collection
State by State: A Panoramic Portrait of America
, inspired by the state guides written for the WPA in the 1930s. His short stories and his essays, including political journalism, have most recently appeared in
The New Yorker, The Best American Essays, The New York Times
, and
The Guardian
. A new collection of his non-fiction,
Farther Away: Essays
, appeared in April 2012.
Franzen's most recent novel is
Freedom
, (Farrar, Straus & Giroux -2010). In August 2010, he was featured on the cover of
TIME
magazine -- only the second time in the last decade that a living writer has been on the cover of this national magazine. Writing in the
New York Times Book Review
, the review's editor, Sam Tanenhaus, declared Franzen's
Freedom
, "a masterpiece of American fiction," and the book debuted at # 1 on the
Times
bestseller list. In September
Freedom
was chosen as Oprah's 64th Book Club pick, and Franzen and Oprah made up with each other on air in December.
Freedom
won the 2011 John Gardner Prize for fiction and the Heartland Prize. It was also chosen as one of the
New York Times
10 Best Books of 2010 and as a finalist for National Book Critics Circle Award and the
Los Angeles Times
Book Prize.
Jonathan Franzen comes to Claremont as part of the President's Distinguished Speaker Series, funded by CMC President Pamela Brooks Gann.