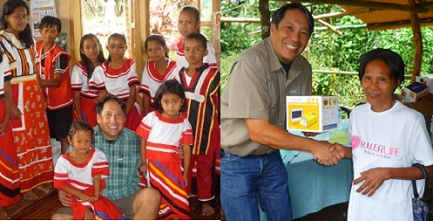 Can Social Business Save the World?
JAIME "JIM" AYALA P'16
MONDAY, JANUARY 28, 2013
Fighting poverty in the Philippines by providing all off-grid villages with sustainable access to solar energy and water purification through an empowerment oriented approach that leverages both market and philanthropic forces are the mission and focus of Jim Ayala's social businesses and philanthropic initiatives. Over 20 million Filipinos live in off-grid households and tens of millions more cope with poor and unreliable power connections. Without sustainable access to energy, these individuals face substantial odds in their progress out of poverty. Further, more than 17 million Filipinos drink unsafe water.

Recently awarded the Ernst & Young Entrepreneur and Social Entrepreneur of the Year—Philippines 2012, Jim has worked on economic development in emerging markets for 28 years in various roles as a social entrepreneur, CEO of a publicly listed company, management consultant, and board member of a number of NGOs. He believes that business and investment capital can help solve urgent social problems, and that working with multiple stakeholders to commercialize social innovations can foster development at the base of the economic pyramid.

Jim earned his M.B.A. with honors in 1988 from Harvard Business School and his B.A. magna cum laude in Economics in 1984 from Princeton University where he currently serves as a Trustee. He began his career at McKinsey & Company, where he worked for 19 years across 29 countries on energy infrastructure and deregulation, industry development, emerging market entry and social responsibility. Later, as President and CEO of Ayala Land (ALI), he oversaw the launch of two new cities (Bonifacio Global City and Nuvali), the expansion of residential portfolios, the development of business process outsourcing campuses, and the opening of new lifestyle shopping complexes. Under his watch ALI increased revenues by 130%, achieved consecutive years of record profits, and invested close to $2 billion in project capital expenditures. As Senior Managing Director of the Ayala Corporation and Trustee of the Ayala Foundation, Jim championed a reorientation towards sustainable development.

Throughout his career, Jim has played leadership roles in a number of civic organizations. Currently, he is Southeast Asia Chairman for the Economic Development Net6work (EDN) of the Young Presidents Organization (YPO), a Trustee of the World Wildlife Fund of the Philippines, the Philippines Tropical Forest Conservation Foundation, and as noted above a Trustee, Princeton University.

Jim is passionate about eco-tourism, and enjoys beach cleanups, mangrove planting, trekking, caving, rappelling, and other forms of adventure travel. He is married and has three children, one of whom, Gabby, is a freshman at CMC. This lecture is the first in the Kravis Leadership Institute's Social Innovation Distinguished Speakers Series.