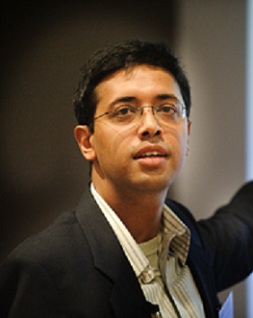 Why is the Demand for Welfare-Improving Technologies and Behaviors Low in Developing Countries? Lessons from Field Experiments in Asia and Africa
MUSHFIQ MOBARAK
FRIDAY, FEBRUARY 22, 2013
LUNCDHEON 11:30 a.m.; LECTURE 12:00 p.m.
Mushfiq Mobarak is an associate professor of economics at the Yale School of Management, where he is a development economist with interests in environmental issues. In his Athenaeum talk, sponsored by the Lowe Institute for Political Economy, Professor Mobarak will present results from a research agenda inspired by the observation that the poor are often unwilling to invest in new products, behaviors and technologies that (we think) are apparently welfare-enhancing. This suggests that either we need to re-visit our assumptions, or that we need to better understand the constraints to behavior change facing the poor, both rational and 'behavioral'. Understanding these constraints is necessary to design economic and marketing strategies to help poor consumers overcome these sources of aversion to behavior change. The talk will draw on state-of-the-art evidence generated from randomized controlled trials conducted in Bangladesh, India and Malawi to market improved cook stoves, toilets, new agricultural technologies and seasonal migration.

Mobarak has several ongoing research projects in Bangladesh, India, Malawi and Brazil in which he conducts field experiments exploring ways to induce people in developing countries to adopt technologies or behaviors that are likely to be welfare improving. He co-chairs the Urban Services Initiative at the Jameel Poverty Action Lab (J-PAL) at MIT, and leads the Bangladesh Research Program for the 'International Growth Centre (IGC)' at LSE and Oxford. He has previously worked as an economist at the University of Colorado at Boulder, the World Bank, and at the International Monetary Fund.

Professor Mobarak advises several PhD economics candidates working on development issues, and he won the 2006 Most Outstanding Faculty Advisor Award at the University of Colorado. He teaches MBA courses focused on the challenges to doing for-profit or non-profit business in developing countries and on marketing products and behaviors to poor consumers. He also leads Yale SOM 'international experience' trips to developing countries.