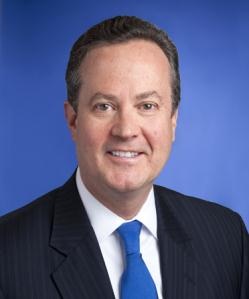 Risk, Regulation & Return – The New State of the Financial Services Industry
DOUGLAS PETERSON '80 P'14 P'15
SATURDAY, FEBRUARY 23, 2013
DINNER 5:30 p.m.; LECTURE 6:30 p.m.
The fifth annual Claremont Finance Conference, set for February 23, is expected to attract hundreds of students, faculty, and alumni from across the business sector.

The Conference will begin with a welcome lunch and keynote address delivered by Peter Sasaki, Portfolio Manager at Centara Capital. It will then be followed by two afternoon panels, with networking breaks throughout.

The Investing Panel will be moderated by Sean Flynn, Professor of Finance at Scripps College. Panel participants include executives from hedge funds, private equity, private wealth, and fixed income among others. The final afternoon panel will be on Corporate Strategy & Entrepreneurship and be moderated by Janet Smith, Professor of Entrepreneurship at Claremont McKenna. It will feature executives from venture capital, private equity, and a variety of entrepreneurs involved in start-ups from healthcare, online gaming, and telecommunications.

The Conference finale event will be cocktail reception followed by a concluding dinner and keynote address at the Athenaeum. The keynote will be delivered by Doug Peterson (CMC '80), President at Standard & Poor's. Doug will relate his executive experience at leading financial institutions to his talk on risk, regulation & return – the new state of the financial services industry.

The 2013 Claremont Finance Conference is co-sponsored by the Robert Day School and Financial Economics Institute at Claremont McKenna.