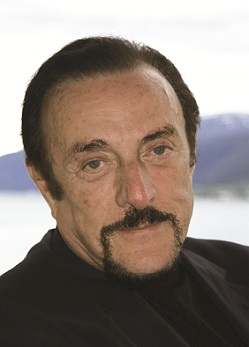 My Journey from Evil to Heroism
PHILIP ZIMBARDO
TUESDAY, FEBRUARY 12, 2013
As a child growing up in the inner city ghetto of the South Bronx, Phil Zimbardo wondered why some of his good friends turned bad, while others did not. Later as a research psychologist, he framed that earlier curiosity as a testable research question: When good people are put in a bad place, does their good personality and character dominate, or are they dominated by powerful, subtle situational forces? His now classic Stanford Prison Experiment generated the negative conclusion that bad barrels corrupt good apples. He was recently called upon to use this argument as an expert witness defending one of the MP prison guards at Abu Ghraib.

This lecture will explore a different question about basic human nature. He will discuss if, when, and how ordinary people can become "Everyday Heroes." He has started a non-profit corporation in San Francisco whose mission is to explore and encourage heroic action from people of all ages and nations by internalizing and acting on a vibrant Heroic Imagination.

Zimbardo has been a Stanford University professor since 1968 (now emeritus), having taught previously at Yale, NYU, and Columbia University. He also continues to teach at the Naval Post Graduate School in Monterey, and is professor at the Palo Alto University. Zimbardo has been given numerous awards and honors as an educator, researcher, writer, media contributor, and for service to the profession of psychology. He has been awarded the Vaclav Havel Foundation Prize for his lifetime of research on the human condition. Among his more than 400 professional publications, including 50 trade and textbooks, is the oldest current textbook in psychology, Psychology and Life (1971), and Psychology: Core Concepts in its 7th Edition. His popular book on shyness in adults was the first of its kind, as was the shyness clinic that he started in the community and continues as a treatment-research clinic at the Palo Alto University in Palo Alto. His other trade books include, The Lucifer Effect: Understanding How Good People Turn Evil (Random House, 2007, paperback, 2008), The Time Paradox: Reconstructing the Past, Enjoying the Present, Mastering the Future (with John Boyd, Free Press, 2008), The Demise of Guys (with Nikita Duncan, TED books, 2012), and Time Heals: The Dynamic New Treatment for PTSD (with Richard and Rosemary Sword, Wiley, 2012).

Zimbardo has been President of the American Psychological Association (2002), President of the Western Psychological Association (twice), Chair of the Council of Scientific Society Presidents (CSSP), and now Chair of the Western Psychological Foundation, as well as the Director of the Center for Interdisciplinary Policy, Education, and Research on Terrorism (CIPERT). His visit to CMC is jointly sponsored by the Dean of Faculty, Kravis Leadership Institute, Psychology Department, and Marian Miner Cook Athenaeum.