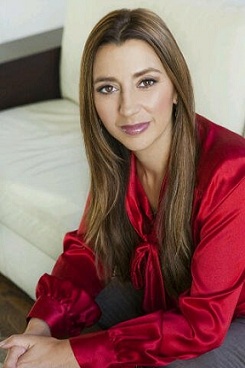 Girls Like Us : The Commercial Sexual Exploitation and Trafficking of Girls in the U.S.
RACHEL LLOYD
TUESDAY, FEBRUARY 26, 2013
Reebok Human Rights Award and Ashoka Fellowship winner Rachel Lloyd is a leading advocate for commercially sexually exploited and domestically trafficked girls and young women. In 1998, with only a computer and $30, Lloyd established GEMS: Girls Educational and Mentoring Services to support girls and young women victimized by the commercial sex industry.

Since its inception as a one-woman outreach program, GEMS has grown steadily, building its services and programs and garnering increased visibility and recognition under Lloyd's leadership. GEMS is now the nation's largest organization offering direct services to domestic victims of commercial sexual exploitation and trafficking.

GEMS serves over 350 girls each year through its clinical recovery, housing and youth leadership programs, and 1,000 youth through education and outreach. As a survivor-led organization, GEMS is well-known for its empowering approach to youth leadership and activism. As the Executive Director of GEMS, Lloyd has been a leading advocate for survivor leadership and spearheaded the first U.S. Summit of Commercially Sexually Exploited Youth, the first youth survivor-led Congressional briefing in DC, the first youth survivor-led legislative briefing in Albany, NY and the first youth survivor produced short documentary Breaking the Silence (2003) about commercial sexual exploitation and domestic trafficking.

Lloyd is a nationally recognized expert on the issue of commercial sexual exploitation of children and domestic trafficking in America, and played a key role in the successful passage of New York State's groundbreaking Safe Harbor Act for Sexually Exploited Youth, the first law in the country to end the prosecution of child victims of trafficking. Her trailblazing advocacy is the subject of the critically-acclaimed Showtime documentary Very Young Girls (2007) for which she was also the Co-Executive Producer. The film, which premiered at the Toronto Film Festival, has been seen by over 3 million people and has been a powerful tool in changing public perception. Rachel is also the author of the memoir Girls Like Us published in April of 2011 by Harper Collins. About the book, filmmaker Mira Nair said, "The truth and power of her writing takes us to a place where common humanity becomes the ultimate healer."

Rachel Lloyd received her Bachelor's degree in Psychology from Marymount Manhattan College and her Masters in Applied Urban Anthropology from the City College of New York.