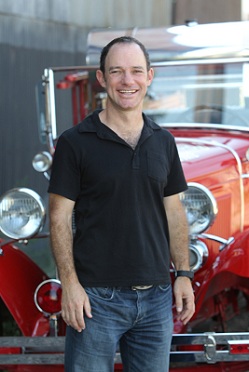 Lunch with a Leader
JOEL APPEL '87
FRIDAY, MARCH 1, 2013
LUNCHEON 11:30 a.m.; LECTURE 12:00 p.m.
Joel has been an entrepreneur and business manager most of his life. After attending Claremont McKenna College and Northwestern's Kellogg Graduate School of Management, Joel worked at the Quaker Oats Company for eight years. He then founded Orange Glo International, marketers of Orange Glo, OxiClean, and Kaboom, with his parents. Joel created the famous television ads featuring the late Billy Mays. In 2006 Joel and his family sold Orange Glo to Church & Dwight/Arm & Hammer.

A year later Joel co-founded Launch Pad LLC, a marketing company that backs and runs several consumer products companies such as FullBar, Brainetics, Tortle, 2 Red Hens, and Gallo en Fuego. Joel also owns the Moda Man store on Larimer Square in Denver. Joel sits on the boards of two non-profits, First Descents and the Hoffman Institute. Joel has two high-school aged kids, loves the outdoors, and has tremendous passion for personal and spiritual growth.

Joel's Athenaeum talk is jointly sponsored by the Robert Day School of Economics and Finance and CMC's Center for Innovation and Entrepreneurship.