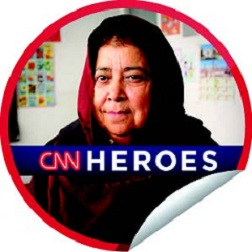 Leadership Lessons from Afghan Girls School Founder, Razia Jan, 2012 Top 10 CNN Hero
RAZIA JAN
MONDAY, MARCH 11, 2013
LUNCHEON 11:30 a.m.; LECTURE 12:00 p.m.
Razia Jan was born in Afghanistan, but moved to Duxbury, Massachusetts in 1970, where she ran a small tailoring business, and served as President of the town's Rotary Club. Following the September 11th attacks, she arranged to send 400 homemade blankets to the Ground Zero rescue workers and went on to organize the sending of 30,000 pairs of shoes to Afghan children.

A trip she made back to Afghanistan a year later showed her the suffering of girls in her home country and broke her heart. The way that women had been oppressed by the Taliban moved her and she resolved to give up the comforts of her life in the U.S. to help them. Razia started the Ray of Hope Foundation, raising money to build a school for girls in Afghanistan, and in 2008 moved back to run the school, which currently has nearly 350 female students ranging from Kindergarten to 8th grade.

The day the school opened, another school across town suffered an attack with hand grenades and 100 girls were killed. Razia has a stone wall installed around the school to protect her students. There are guards who test the water every day, to ensure it isn't poisoned. Adults even escort the children to the bathroom to make sure they don't try to drink the tap water. The air quality of the classrooms is checked every morning to ensure that there is no gas. Razia is one of many who believe that peace will come through education. She believes that by educating these girls, change will come to the whole country. She meets with the male relatives of each girl throughout the year to ensure they are still supportive of her education. The men are very proud of their daughters now. She also maintains good relationships with the local community, whose support is vital.

In a culture that is still hostile to women in many ways, the Zabuli Education Center is a haven for the girls. They have a desire to learn and are grateful for this rare opportunity. With their new computer lab, "they can touch the world just sitting in this school" and "the knowledge is something that nobody can steal from them" says Razia.