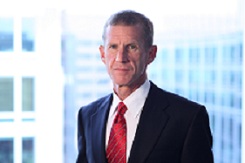 The State of International Affairs and the Security Challenges Facing America
STANLEY MCCHRYSTAL
WEDNESDAY, MARCH 27, 2013
General Stan McChrystal is widely known for developing and implementing the counter-insurgency strategy in Afghanistan and for creating a comprehensive counter-terrorism organization that revolutionized the way military agencies interact and operate. A four-star general, McChrystal is the former commander of U.S. and international forces in Afghanistan and the former leader of Joint Special Operations Command (JSOC), which oversees the military's most sensitive forces.

McChrystal graduated from West Point in 1976 and was commissioned as an infantry officer. He trained at the Special Forces School in Fort Bragg, North Carolina, and spent much of his career commanding special operations and airborne infantry units. During the Persian Gulf War, McChrystal served in a Joint Special Operations Task Force, and he later commanded the 75th Ranger Regiment. He also completed year-long fellowships at Harvard's John F. Kennedy School of Government in 1997 and at the Council on Foreign Relations in 2000. He was promoted to brigadier general in 2001.

In 2002, McChrystal was appointed chief of staff of military operations in Afghanistan. From 2003–2008, he commanded JSOC and was responsible for leading the nation's deployed military counter-terrorism efforts around the globe. He assumed command of all U.S. and international forces in Afghanistan in June 2009.

McChrystal retired from the military in 2010. He now serves on the board of directors for JetBlue Airways, Navistar, and the Yellow Ribbon Fund. He is also the chairman of the board for Siemens Government Technologies. In 2011, McChrystal returned to public service after the Obama administration invited him to oversee Joining Forces, a high-profile initiative that supports military families. He is also a senior fellow at Yale University's Jackson Institute for Global Affairs. McChrystal co-founded the McChrystal Group in January 2011.

General McChrystal's visit to the Marian Miner Cook Athenaeum is sponsored by the Res Publica Society.