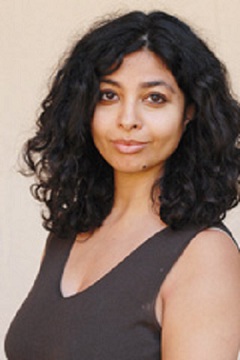 Ascetics, Warriors, and a Gandhian Ecological Citizenship: Thinking through M.K. Gandhi
FARAH GODREJ
MONDAY, MARCH 11, 2013
LECTURE 6:45 p.m. PARENTS DINING ROOM
Farah Godrej has already been called a "leader of the new generation of scholars" after the release of her first book. Cosmopolitan Political Thought: Method, Practice, Discipline (New York: Oxford University Press, 2011) asks the question of what it might mean for the very practices of political theorizing to be cosmopolitan. It suggests that such a vision of political theory is intimately linked to methodological questions about what is commonly called comparative political theory - namely, the turn beyond ideas and modes of inquiry determined by traditional Western scholarship. It is therefore an argument for applying the idea of cosmopolitanism--understood in a particular way - to the discipline of political theory itself.

As Farah Godrej argues, political theorists must reflect on their perspectives inside and outside various traditions and immerse themselves in foreign ideas, languages, histories, and cultures - ultimately relocating themselves within their disciplinary homes. The result will be a serious challenge to accepted solutions to political life.

The book critiques both traditional cosmopolitanism and comparative political theory and brings normative, rather than critical, perspective to study of non-western political texts. Cosmopolitan Political Thought has been called "fascinating", "bold and timely", and "destined to transform existing relations in political theory".

Farah Godrej is Associate Professor of Political Science at the University of California, Riverside. She received her doctorate from Georgetown University and joined the department in 2006. Her areas of research and teaching include Indian political thought, Gandhi's political thought, cosmopolitanism, globalization, comparative political theory, and environmental political thought. Her research appears in journals such as Political Theory, The Review of Politics, and Polity.