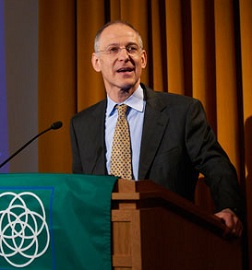 Health Care Reform and the Future of American Medicine
EZEKIEL EMANUEL
MONDAY, MARCH 11, 2013
Ezekiel J. Emanuel is the vice provost for global initiatives, the Diane S. Levy and Robert M. Levy University Professor, and chair of the Department of Medical Ethics and Health Policy at the University of Pennsylvania. He served as the founding chair of the Department of Bioethics at The Clinical Center of the National Institutes of Health from 1997 to 2009, when he was drafted to the White House health-reform team to advise then-Office of Management and Budget on overhauling America's health-care system. After the White House successfully passed a major health overhaul, Dr. Emmanuel returned to NIH.

After graduating from Amherst college in 1979, Dr. Emmanuel received his M.Sc. from Oxford University in biochemistry, his M.D. and Ph.D. in political philosophy from Harvard University, where he was a fellow in the Program in Ethics and the Professions at the Kennedy School of Government at Harvard and his dissertation received the Toppan Award for the finest political science dissertation of the year. He then went on to complete his internship and residency in internal medicine at Boston's Beth Israel Hospital and his oncology fellowship at the Dana-Farber Cancer Institute, where he joined the faculty. Prior to joining the National Institutes of Health, he was an associate professor at Harvard Medical School.

Dr. Emanuel has written or edited nine books, most recently Global Justice and Bioethics (2012). He developed "The Medical Directive," a comprehensive living will that has been endorsed by Consumer Reports on Health, Harvard Health Letter, The New York Times, The Wall Street Journal, and many other publications. He has published over 200 scientific articles on topics including the ethics of clinical research, health care reform, international research ethics, end-of-life care issues, euthanasia, the ethics of managed care, and the physician-patient relationship. He is a regular op-ed contributor for The New York Times.

Emanuel served on President Bill Clinton's Health Care Task Force, the National Bioethics Advisory Commission, and on the bioethics panel of the Pan-American Healthcare Organization. He is a Fellow at the nonprofit bioethics research institute The Hastings Center and at the Center for American Progress.

Dr. Emanuel has received numerous awards including election to the Institute of Medicine of the National Academy of Science, the Association of American Physicians, and the Royal College of Medicine. Hippocrates Magazine selected him as Doctor of the Year in Ethics. He received the AMA-Burroughs Welcome Leadership Award, the Public Service Award from the American Society of Clinical Oncology and the John Mendelsohn Award from the MD Anderson Cancer Center. In 2007, Roosevelt University presented Dr. Emanuel with the President's Medal for Social Justice.