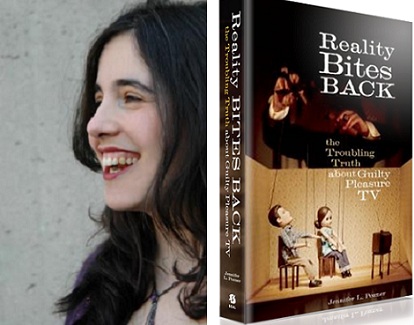 Reality Bites Back
JENNIFER POZNER
WEDNESDAY, MARCH 13, 2013
Jennifer L. Pozner is media critic, lecturer and founder and executive director of Women In Media & News. She founded WIMN in 2001 to increase women's presence and power in the public debate through media analysis, education, advocacy and reform. Some of WIMN's programs include media trainings for women's and women-led social justice groups, advocacy for media justice and institutional change, and the POWER (Perspectives Of Women Expand Reporting) Sources Project, which connects journalists and media producers with a dynamic and diverse national network of women experts. Pozner created and manages WIMN's Voices, a media analysis group blog, through which dozens of leading women journalists, media critics and activists analyze media coverage of women in relation to a wide variety of cultural, political and international news beats.

Formerly, she directed the Women's Desk for the national media watch group FAIR (Fairness & Accuracy In Reporting), where she was a staff writer for Extra! magazine and the organizer of the national Feminist Coalition on Public Broadcasting and was Media Watch columnist and contributing media editor for Sojourner: The Women's Forum, a national women's newspaper.

A widely published freelance journalist, Pozner's work has appeared in outlets ranging from traditional publications such as Newsday and the Chicago Tribune, to independent magazines such as Ms. magazine, and new media like the HuffingtonPost. Her essays have appeared in anthologies such as What Do We Do Now (2010) (a post-2004 election manifesto); The W Effect: Bush's War on Women (2004); Catching a Wave: Reclaiming Feminism for the 21st Century (2003); Uncovering the Right on Campus (1994); and Points and CounterPoints: Controversial Family and Relationship Issues in the 21st Century (2002). She has also appeared as a commentator on CNN, Fox News, MSNBC, ABC News Now, Democracy Now!, National Public Radio, Comedy Central's "The Daily Show with Jon Stewart," and several documentary films.

In 2009, she was recognized as one of the New Leaders Council "40 Under 40" progressive leaders in America. In 2007, Soroptimist International of NYC honored her with their "Making A Difference for Women" Award. Still, her favorite award remains her 2006 inclusion "The Real Hot 100," a Girls In Government project honoring young women leaders making change in their communities. The "Certificate of Hotness" they gave her for media activism still makes her happy four years later — because it came with the tagline, "See how hot smart can be!" Forbes named Jennifer one of "20 Inspiring Women To Follow On Twitter" in 2010. Later that year, she was amused to find her non-profit activist self alongside Tyra Banks, Martha Stewart and Vera Wang on BizTech Day's list of "25 Influential Business Women in New York City You Should Follow on Twitter."

Her latest book Reality Bites Back: The Troubling Truth about Guilty Pleasure TV (2010), takes a fierce, funny, and in-depth look at how reality TV affects our beliefs, our behavior, and our culture by deconstructing reality TV's twisted fairytales, demonstrating that far from harmless "guilty pleasures," this genre has a damaging impact on our intellectual and political development.