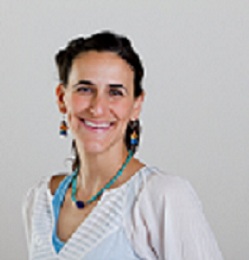 Sports for Sharing: Waking Up Children's Inner Agent of Change Through Sports and Games
DINA BUCHBINDER AURON
MONDAY, MARCH 25, 2013 LUNCHEON 11:30 a.m.; LECTURE 12:00 p.m.
Dina Buchbinder Auron. Dina is a social entrepreneur in a quest to change traditional education in Mexico struck with passivity and rigidity. Aware of the importance of getting involved with her community, Dina has been active in supporting projects related to education, health, migration, gender, environment and sustainable development.

Passionate also about children's potential and ideas, she founded Deport-es para Compartir in 2007, an educational and civic program that teaches children how to become better citizens from childhood in a fun way through games and sporting activities. Children get empowered through this innovative methodology to envision themselves as changemakers in their communities, addressing global challenges such as environmental sustainability and education.

In 2009 Dina was selected Global Fellow at the Youth ActionNet from the International Youth Foundation, she won the UVM Award for social development in 2009 and she is an Ashoka Fellow since 2011. Dina is a member of the WFUNA Youth Advisory Group and is proud to be a 2011 INK Fellow. During 2012 Dina was named Global Shaper by the World Economic Forum, Cordes Fellow for Opportunity Collaboration and was asked to join the International Youth Foundation Board of Directors.

Currently, she is the director of Deport-es para Compartir. This program has reached more than 161,000 children, teachers and parents in 19 states of Mexico, mostly from indigenous communities. Since 2007 Dina has built an interdisciplinary team of 70 young leaders from diverse backgrounds that work together to fulfill the mission of the program.