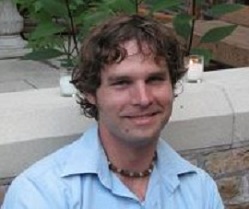 Hmm, That Doesn't Sound Like Economics: An Economist's Perspective on Sentencing Laws, Discrimination, and Willful Ignorance
DAVID BJERK
TUESDAY, MARCH 26, 2013
"In this presentation I will describe different types of economic approaches I have taken to examine social issues that may fall outside of what most people tend to think of as economics. I hope this talk will provide some insights into what might be some unintended consequences of sentencing laws, why discrimination can arise and persist in a competitive labor market, and why people often seem to inform themselves about important issues from sources known to be more biased than others. I hope this talk will also highlight the distinct ways the discipline of economics approaches problems."
-David Bjerk

David Bjerk is currently an Associate Professor of Economics in the Robert Day School of Economics and Finance at Claremont McKenna College, as well as a Research Affiliate of the National Poverty Center at the University of Michigan and a Research Fellow at the IZA (Institute for Study of Labor) in Bonn Germany.

Professor Bjerk has published extensively on topics such as labor market discrimination, the relationship between poverty and crime, and the role of plea bargaining in the judicial system. Notable papers have included "Glass Ceilings or Sticky Floors? Statistical Discrimination in a Dynamic Model of Hiring and Promotion" (2008) published in the Economic Journal, "Guilt Shall Not Escape or Innocence Suffer: The Limits of Plea Bargaining When Defendant Guilt is Uncertain" (2007) published in the American Law and Economics Review, and "Thieves, Thugs, and Neighborhood Poverty" (2010) published in the Journal of Urban Economics. His more recent work has branched out to new areas and methods including laboratory experiments looking at individuals' motivations for their preferences over income redistribution, as well as collecting data to examine the extent to which federal judges impose different sentences on similar criminals.

Prior to coming to Claremont McKenna, Professor Bjerk was an Assistant Professor of Economics at McMaster University in Hamilton Ontario and an NICHD Research Fellow in Population Studies at the RAND Corporation in Santa Monica. He completed his B.A. in Economics at Carleton College and his M.S. and Ph.D. in Economics at the University of Wisconsin-Madison.