Athenaeum Location
Print Newsletter
April 1, 2013
Vol. 28, No. 11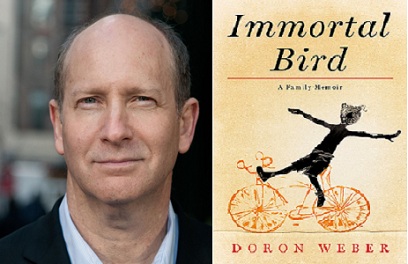 Immortal Bird: A Reading
DORON WEBER
MONDAY, APRIL 1, 2013
LUNCHEON 11:30 a.m.; READING 12:00 p.m.
Immortal Bird: A Family Memoir (2013), Doron Weber's widely acclaimed family memoir, is the story of Damon Weber's remarkable life. It is also the story of his father's heroic struggle with the health care system that ultimately failed his son. At once a triumphant coming-of-age tale, a moving portrait of friendship between father and son, and a searing account of the perils of modern medicine, Immortal Bird has started a national conversation about the proper treatment of patients and the importance of improving communication between doctors and those they treat.

Born on an Israeli kibbutz, Weber studied literature at Brown University, the Sorbonne, and Oxford, where he was a Rhodes Scholar. Currently he runs the program for the Public Understanding of Science and Technology at the Alfred P. Sloan Foundation. Weber creates seminal programs to promote the sciences and the arts, including the Foundation's effort to achieve universal access to knowledge through digital Information.

Doron Weber's presentation is part of the Athenaeum's semester long series on bioethics, as it applies to research, medical practice, and the health care system.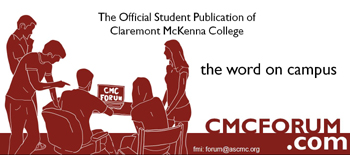 CMC Forum Idea Night at the Ath: Don't Have Kids
TIM STORER '15
CMC Forum Idea Night at the Ath: I'm On a Boat
NADEEM FAROOQI '15
CMC Forum Idea Night at the Ath: Fish are Catching On to Fishing
MANAV KOHLI '16
CMC Forum Idea Night at the Ath: Sex DRIVE
ALEXANDRIA BRILL ' 16
MONDAY, APRIL 1, 2013
For the 4th year in a row, the Forum is proud to present what is quickly becoming a CMC tradition: Idea Night at the Athenaeum.
Whether its an idea formed in the shower, during an all-nighter, or scribbled on a chalk board full of equations, as a CMC student, you have an interesting solution to some problem. Unfortunately, many of your ideas are submitted to professors, graded, and never get to live out their glory days. Idea Night is about reclaiming the best of those ideas and sharing them with your community... competitively, with wine.
Some questions to consider answering are: What would you change about CMC? What would you change about the effect of gravity on jowls? Is there any particular reason that seagulls should exist? If a snake slithers in the Mojave desert, does anyone hear it? Why was Taft the coolest President in American history? How will 3D printing revolutionize college life? How would you cure Malaria? And maybe most interesting - where does Professor Massoud get his charm?
Students are invited to submit original ideas from academic work, side projects, or life. Participants and topics will be chosen by a committee of students. On the evening of April 1, selected speakers will be given a projector, a podium and 10 minutes to make their case to an audience of peers. Is everyone making their coffee wrong? Is your Spanish slam poetry crazy good? This is your opportunity to share your original research, your business ideas, and your political rants with the rest of us.
At the end of the event, the audience will be asked to vote for the best speech. Presentation skills will be taken just as seriously as topic interest. The audience favorite will be awarded an awesome (not yet-announced) prize. So bring your A game.
Stay tuned to
CMCForum.com
for updates, previews, and more. A full roster of participants and topics will be announced shortly.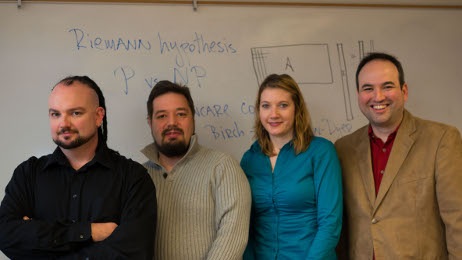 A Challenge for the Millennium: The Million Dollar Problems in Mathematics
SAM NELSON
LENNY FUKSHANSKY
DEANNA NEEDELL
MARK HUBER
TUESDAY, APRIL 2, 2013
At the Second International Congress of Mathematicians in 1900 in Paris, David Hilbert, the reigning mathematician of the day presented a list of 23 unsolved problems, which strongly influenced and shaped the development of mathematics and related disciplines throughout the 20th century. To mark the centennial of Hilbert's monumental lecture, the Clay Mathematical Institute announced a list of 7 Millennium Prize Problems with an award of one million dollars for a solution of each of them. The official announcement was made at an important mathematical meeting in Paris in 2000 by John Tate and Michael Atiyah, two of the greatest mathematicians of the 20th century. These problems have already played a crucial role in the development of mathematics in the early 21st century and are expected to be most fundamental in the future as well. In this presentation we will discuss some of these problems and explain how they are related to our own work and collaboration with our students.

Sam Nelson, Associate Professor of Mathematics, has been at CMC since 2008. He completed his Ph.D. at Louisiana State University and then spent several years as a visiting assistant professor at several colleges, including Whittier College, UC Riverside, and Pomona College. His research mostly focuses on topology, specifically in low-dimensional topology, algebraic topology and combinatorial topology.

Lenny Fukshansky, Associate Professor and Chair, Department of Mathematical Sciences, emigrated from Russia to the US in 1990. He studied mathematics at UCLA and completed his Ph.D. at UT Austin. Prior to arriving at CMC, he held a postdoctoral position at Texas A&M University. His main research areas are number theory and discrete geometry.

Deanna Needell, Assistant Professor of Mathematics, is relatively new to Claremont, joining the CMC math department in 2011. Before that, she received her Ph.D. in math from U.C. Davis and held a postdoctoral position at Stanford. Her research interests include randomized algorithms, functional analysis, statistics, and computational mathematics.

Mark Huber, Fletcher Jones Associate Professor of Mathematics and Statistics and George R. Roberts Fellow, attended Harvey Mudd College, graduating with a degree in mathematics, and then went on to earn a Ph.D. from Cornell. He held a postdoctoral position at Stanford and was on the faculty at Duke prior to arriving at CMC in 2009. His research focus is probability with an emphasis on the design and analysis of perfect sampling algorithms.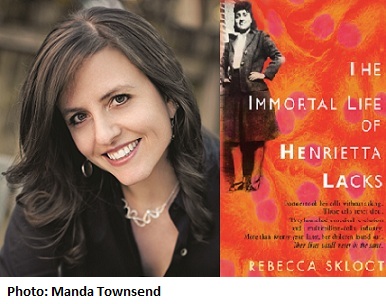 The Immortal Life of Henrietta Lacks
REBECCA SKLOOT
WEDNESDAY, APRIL 3, 2013
The Immortal Life of Henrietta Lacks (2010), Rebecca Skloot's debut book, took more than a decade to research and write, and instantly hit The New York Times best-seller list, where it has remained for more than three years since its publication. The book tells the story of Henrietta Lacks, an African-American woman who was diagnosed with terminal cervical cancer and treated at Johns Hopkins University, where a doctor named George Gey snipped cells from her cervix without telling her. Gey discovered that Lacks' cells could not only be kept alive, but would also grow indefinitely.

For half a century, biotechnology companies and scientists have used the astonishingly hardy cancer cells that killed Lacks to develop countless medical breakthroughs and establish a multimillion-dollar industry selling her cell line, known as HeLa. The HeLa cell line, the first human cells to both grow outside the body and to be commercialized, have been used in more than 60,000 experiments and have played a part in some of the world's most important medical advances, from the polio vaccine to in vitro fertilization.

Though her cells were have generated millions of dollars in profit for the medical researchers who patented her tissue, Lacks' family didn't know the cell cultures existed until they were approached by scientists to donate their own cell samples for gene research. Shortly before the book came out, Skloot created The Henrietta Lacks Foundation to provide financial assistance to needy individuals who have made important contributions to scientific research without their knowledge or consent.

The Immortal Life of Henrietta Lacks was chosen as a best book of 2010 by more than 60 media outlets, has won numerous awards, including the 2010 Chicago Tribune Heartland Prize for Nonfiction and the National Academies of Science Best Book Award, and will soon be made into an HBO movie by Oprah Winfrey.

The Immortal Life of Henrietta Lacks raises sometimes uncomfortable questions with no clear-cut answers about whether people should be remunerated for their physical, genetic contributions to research and about the role of profit in science and is a story inextricably connected to the dark history of experimentation on African Americans, the birth of bioethics, and the legal battles over whether we control the stuff we're made of.

After attending Portland Community College and becoming a Veterinary Technician, she received a B.S. in biological sciences from Colorado State University, and an MFA in creative nonfiction from the University of Pittsburgh. She is a former vice president of the National Book Critics Circle She has taught creative writing and science journalism at the University of Pittsburgh, New York University, and the University of Memphis. She is a member of the American Society of Journalists and Authors, the National Association of Science Writers, and the National Book Critics Circle.

Skloot's award winning science writing has appeared in The New York Times Magazine; O, The Oprah Magazine; Discover; and many other publications. She specializes in narrative science writing and has explored a wide range of topics from goldfish surgery to food politics. She has worked as a correspondent for WNYC's Radiolab and PBS's NovaScienceNOW. In 2011, she co-edited The Best American Science Writing with her father, Floyd Skloot.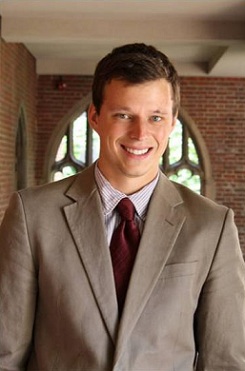 Partnerships for the Middle East and North Africa in 21st Century American Statecraft
JOSHUA W. WALKER
THURSDAY, APRIL 4, 2013
LUNCHEON 11:30 a.m.; LECTURE 12:00 p.m.
Joshua W. Walker is a 2012-2013 Council on Foreign Relations International Affairs Fellow currently serving at the U.S. State Department. As a senior adviser to the Office of the Secretary Global Partnership Initiative, Dr. Walker coordinates the Partners for a New Beginning initiative, which is a public-private network active in Algeria, Egypt, Indonesia, Jordan, Libya, Mauritania, Morocco, Pakistan, Tunisia, Turkey, and the Palestinian Territories.

Prior to this appointment Walker was a Transatlantic Fellow at the German Marshall Fund of the United States responsible for the Turkey program and Japan portfolio of the Asia team. Active in bridging the academic and policy worlds, Dr. Walker co-founded the Yale Journal of International Affairs, Young Professionals in Foreign Policy in New York, and the Project on Religion, Diplomacy, and International Relations at Princeton.

Joshua Walker has been a Foreign Policy Initiative Future Leader and Truman National Security Project fellow. He has been affiliated and taught at Brandeis University, George Mason University, Harvard Kennedy School, Middle East Technical University, Istanbul Sehir Merkez, Tokyo University Transatlantic Academy, Princeton University, University of Richmond, and Yale University.

Dr. Walker earned his Ph.D. in Politics and Public Policy with a specialization on International Relations and Security Studies at Princeton University. He holds a Master's degree in International Relations from Yale University and a Bachelor's degree from the University of Richmond. He was a Fulbright Fellow in Ankara, Turkey and has worked for the U.S. Embassy and State Department on Turkey.

Joshua Walker's Athenaeum lecture is sponsored by the Keck Center for International and Strategic Studies at Claremont McKenna College.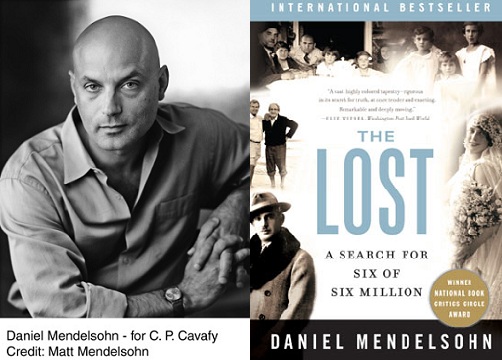 The Lost: A Search for Six of Six Million
DANIEL MENDELSOHN
THURSDAY, APRIL 4, 2013
Daniel Mendelsohn, an award-winning writer, critic, and author of the international bestseller The Lost: A Search for Six of Six Million, was born on Long Island and educated at the University of Virginia and at Princeton. Since 1991 his essays and reviews have appeared in many publications, most frequently in The New Yorker and The New York Review of Books. He has also been the weekly book critic for New Yorker and a frequent contributor to The New York Times Book Review, and is presently a Contributing Editor at Travel + Leisure.

The Lost, published by HarperCollins in 2006, won the National Books Critics Circle Award and the National Jewish Book Award in the United States, the Prix Médicis in France, among many other honors, and has been published in over fifteen languages. Other books include a memoir, The Elusive Embrace (1999), a New York Times Notable Book of the year and a Los Angeles Times Best Book of the Year; a collection of his reviews, How Beautiful It Is and How Easily It Can Be Broken (2008), a Publishers Weekly Best Book of the Year; and an acclaimed two-volume translation of the poetry of C. P. Cavafy (2009), also a Publishers Weekly Best Book of the Year.

Daniel Mendelsohn's honors include a Guggenheim Fellowship, the National Book Critics Circle Citation for Excellence in Book Reviewing, and the George Jean Nathan Prize for Drama Criticism. In 2008 he was named by The Economist as one of the best critics writing in the English language. Daniel Mendelsohn lives in New York City and teaches at Bard College.
WLA Brunch with a Leader: President Gann
WOMEN AND LEADERSHIP ALLIANCE
FRIDAY, APRIL 5, 2013
BRUNCH 10:15 a.m.; PRESENTATION 10:45 a.m. PARENTS DINING ROOM
President Pamela Brooks Gann is completing her fourteenth and final year as President of Claremont McKenna College. CMC's Women and Leadership Alliance (WLA) is organizing a brunch in the Parents Dining Room at the Athenaeum in honor of President Gann's service to the College. Brunch is followed by an interview with President Gann on her views of women and leadership in the field of higher education.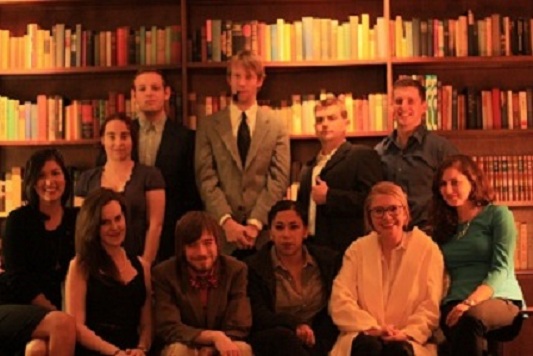 UNDER THE LIGHTS presents
Dinner Theater
And Then There Were None by Agatha Christie
JAVED JASANI '13, director
MONDAY - WEDNESDAY, APRIL 8-10, 2013
DINNER 6:00 p.m.; PERFORMANCE 6:45 p.m.
10 people. 1 island. 3 Nights of Murder. It all started off simply enough. It was a just a house party. Ten strangers brought together by fate. A charming island. A charming party. The perfect holiday. That is until the guests start being killed off one by one. Who's behind these brutal killings? What could the killer(s) possibly want? And will they manage to come together and solve this mystery before time runs out?

Under the Lights (UTL) is CMC's longest running club and promises to bring you a night of laughter, intrigue and suspense. See if you can figure out the mystery, before it's too late…

Starring: Aaron Outland '13, Andie Wheatley '13, Steven Zima '13, Anna Bodi '13, Lorien Giles '14, Jillian Avalon '14, Laila Heid '14, Michael Elhardt '15, Kiana Mendoza '15, Christus Ahmanson '16, and Celia Flinn '16.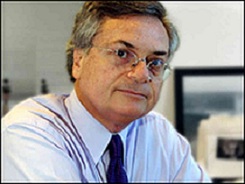 The End of Power
MOISES NAIM
TUESDAY, APRIL 9, 2013
LECTURE 6:45 p.m. PARENTS DINING ROOM
We know that power is shifting: from West to East and North to South, from presidential palaces to public squares, from once formidable corporate behemoths to nimble startups and, slowly but surely, from men to women. But power is not merely shifting and dispersing. It is also decaying. Those in power today are more constrained in what they can do with it and more at risk of losing it than ever before.

In The End of Power: From Boardrooms to Battlefields and Churches to States: Why Being in Charge Isn't What It Used to Be (2013), award-winning columnist and former Foreign Policy Editor Moisés Naím illuminates the struggle between once-dominant mega players and the new micro powers challenging them in every field of human endeavor. Drawing on provocative, original research, Naím shows how the antiestablishment drive of micro power scan topple tyrants, dislodge monopolies, and open remarkable new opportunities, but it can also lead to chaos and paralysis. Naím deftly covers the seismic changes underway in business, religion, education, within families, and in all matters of war and peace. Accessible and captivating, Naím offers a revolutionary look at the inevitable end of power — and how it will change your world.

Moisés Naím is a scholar at the Carnegie Endowment for International Peace and an internationally syndicated columnist. For over a decade he was the editor-in-chief of Foreign Policy magazine and under his leadership, the magazine was re-launched, won the National Magazine award for General Excellence three times and became one of the world's most influential publications in international affairs. Naím also served as Venezuela's Minister of Industry and Trade and as executive director of the World Bank. Naím holds a Ph.D.from MIT and lives in Washington, DC.

Moisés Naim's visit to campus is sponsored by the Keck Center for International and Strategic studies at Claremont McKenna College.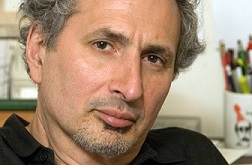 The Transmission of Trauma across Generations: Writing a Memoir about the Armenian Genocide and Growing up in Suburbia
PETER BALAKIAN
FRIDAY, APRIL 12, 2013
LUNCHEON 11:30 a.m.; LECTURE 12:00 p.m.
Adolf Hitler is purported to have said, "Who today remembers the extermination of the Armenians?" referring to the estimated 1.5 million Armenians driven from their homes by the Turkish Government between April and October 1915. The Armenians encountered government death squads and brutal conditions on their grim march to the Syrian Desert, which claimed countless lives.

Growing up in the affluent suburbs of New Jersey in the 1960s, Professor Peter Balakian, an Armenian-American, was unaware of the calamity that had befallen many of his relatives. The silence surrounding the Armenian genocide was only broken much later in his life, as elements of the tragedy slowly surfaced. Balakian's search to uncover the hidden voices of his heritage has helped define his impressive and influential career.

Professor Balakian is currently Donald M. and Constance H. Rebar Professor of the Humanities in the department of English, Director of Creative Writing, and the first Director of Colgate's Center for Ethics and World Societies.

Balakian has authored five books of poems, most recently June-tree: New and Selected Poems 1974-2000 (2004). His work has appeared widely in American magazines and journals.

His memoir Black Dog of Fate (2009), won the PEN/Albrand Prize for memoir and was recognized as a New York Times Notable Book. A national best seller, The Burning Tigris: The Armenian Genocide and America's Response (2003), was awarded the 2005 Raphael Lemkin Prize (best book in English on the subject of genocide and human rights).

He is co-founder and co-editor with the poet Bruce Smith of the poetry magazine Graham House Review. Balakian's prizes and awards include a Guggenheim Fellowship; National Endowment for the Arts Fellowship; Emily Clark Balch Prize for poetry, Virginia Quarterly Review 2007 and the Movses Khorenatsi Medal from the Republic of Armenia 2007.
ATHENAEUM ETIQUETTE
The Athenaeum serves as a gathering place where ideas, inquiry, and fellowship bring students, faculty, staff, other scholars, and nationally prominent speakers together.



Attendance at any event may be limited to persons associated with CMC, to the people who signed up for the dinner, or to the maximum number of people allowed by fire regulations.



On some occasions the speaker may address the group in another forum or the College may set up a video feed to handle an overflow crowd. All programs at the Athenaeum are filmed. Individuals attending should understand that their image might appear on the videotape.



House rules and common courtesy prohibit disruptive actions inside the building during an Athenaeum sponsored program.



Time allowing, there will be a period set aside for questions. Students will have priority during this portion of the program.



Guests are expected to dress appropriately in all dining rooms. Shorts, jeans, and t-shirts are not acceptable at dinner; more casual attire is acceptable for lunch and tea. No bare feet at any time.
MARIAN MINER COOK ATHENAEUM
RECORDING POLICY
It is the policy of the Marian Miner Cook Athenaeum that no lecture, appearance or performance by any speaker or performer at the Athenaeum is to be videotaped, audiotaped, or otherwise recorded and/or broadcast without the prior written permission of the relevant speaker, performer, or other authorized owner of the intellectual property rights to the event.



Anyone requesting permission to record an event is required to submit an "Event Recording Request Form" to Bonnie Snortum, the Director of the Athenaeum, at least 48 hours in advance of the relevant event.



It is understood that the speaker, the performer, the Athenaeum, and any other event sponsor, as appropriate, reserve all intellectual property rights for each Athenaeum event.



If you have any questions regarding this policy, please contact Bonnie Snortum at bsnortum@cmc.edu or at (909) 607-4180.