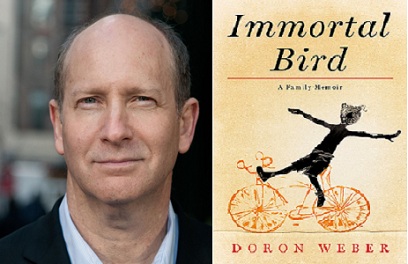 Immortal Bird: A Reading
DORON WEBER
MONDAY, APRIL 1, 2013
LUNCHEON 11:30 a.m.; READING 12:00 p.m.
Immortal Bird: A Family Memoir (2013), Doron Weber's widely acclaimed family memoir, is the story of Damon Weber's remarkable life. It is also the story of his father's heroic struggle with the health care system that ultimately failed his son. At once a triumphant coming-of-age tale, a moving portrait of friendship between father and son, and a searing account of the perils of modern medicine, Immortal Bird has started a national conversation about the proper treatment of patients and the importance of improving communication between doctors and those they treat.

Born on an Israeli kibbutz, Weber studied literature at Brown University, the Sorbonne, and Oxford, where he was a Rhodes Scholar. Currently he runs the program for the Public Understanding of Science and Technology at the Alfred P. Sloan Foundation. Weber creates seminal programs to promote the sciences and the arts, including the Foundation's effort to achieve universal access to knowledge through digital Information.

Doron Weber's presentation is part of the Athenaeum's semester long series on bioethics, as it applies to research, medical practice, and the health care system.