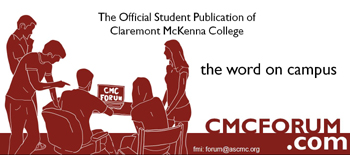 CMC Forum Idea Night at the Ath: Don't Have Kids
TIM STORER '15
CMC Forum Idea Night at the Ath: I'm On a Boat
NADEEM FAROOQI '15
CMC Forum Idea Night at the Ath: Fish are Catching On to Fishing
MANAV KOHLI '16
CMC Forum Idea Night at the Ath: Sex DRIVE
ALEXANDRIA BRILL ' 16
MONDAY, APRIL 1, 2013
For the 4th year in a row, the Forum is proud to present what is quickly becoming a CMC tradition: Idea Night at the Athenaeum.
Whether its an idea formed in the shower, during an all-nighter, or scribbled on a chalk board full of equations, as a CMC student, you have an interesting solution to some problem. Unfortunately, many of your ideas are submitted to professors, graded, and never get to live out their glory days. Idea Night is about reclaiming the best of those ideas and sharing them with your community... competitively, with wine.
Some questions to consider answering are: What would you change about CMC? What would you change about the effect of gravity on jowls? Is there any particular reason that seagulls should exist? If a snake slithers in the Mojave desert, does anyone hear it? Why was Taft the coolest President in American history? How will 3D printing revolutionize college life? How would you cure Malaria? And maybe most interesting - where does Professor Massoud get his charm?
Students are invited to submit original ideas from academic work, side projects, or life. Participants and topics will be chosen by a committee of students. On the evening of April 1, selected speakers will be given a projector, a podium and 10 minutes to make their case to an audience of peers. Is everyone making their coffee wrong? Is your Spanish slam poetry crazy good? This is your opportunity to share your original research, your business ideas, and your political rants with the rest of us.
At the end of the event, the audience will be asked to vote for the best speech. Presentation skills will be taken just as seriously as topic interest. The audience favorite will be awarded an awesome (not yet-announced) prize. So bring your A game.
Stay tuned to
CMCForum.com
for updates, previews, and more. A full roster of participants and topics will be announced shortly.