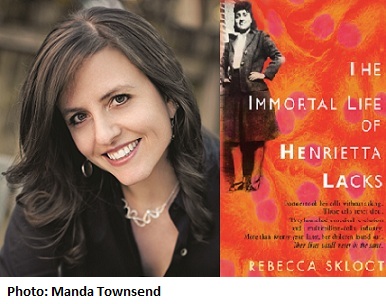 The Immortal Life of Henrietta Lacks
REBECCA SKLOOT
WEDNESDAY, APRIL 3, 2013
The Immortal Life of Henrietta Lacks (2010), Rebecca Skloot's debut book, took more than a decade to research and write, and instantly hit The New York Times best-seller list, where it has remained for more than three years since its publication. The book tells the story of Henrietta Lacks, an African-American woman who was diagnosed with terminal cervical cancer and treated at Johns Hopkins University, where a doctor named George Gey snipped cells from her cervix without telling her. Gey discovered that Lacks' cells could not only be kept alive, but would also grow indefinitely.

For half a century, biotechnology companies and scientists have used the astonishingly hardy cancer cells that killed Lacks to develop countless medical breakthroughs and establish a multimillion-dollar industry selling her cell line, known as HeLa. The HeLa cell line, the first human cells to both grow outside the body and to be commercialized, have been used in more than 60,000 experiments and have played a part in some of the world's most important medical advances, from the polio vaccine to in vitro fertilization.

Though her cells were have generated millions of dollars in profit for the medical researchers who patented her tissue, Lacks' family didn't know the cell cultures existed until they were approached by scientists to donate their own cell samples for gene research. Shortly before the book came out, Skloot created The Henrietta Lacks Foundation to provide financial assistance to needy individuals who have made important contributions to scientific research without their knowledge or consent.

The Immortal Life of Henrietta Lacks was chosen as a best book of 2010 by more than 60 media outlets, has won numerous awards, including the 2010 Chicago Tribune Heartland Prize for Nonfiction and the National Academies of Science Best Book Award, and will soon be made into an HBO movie by Oprah Winfrey.

The Immortal Life of Henrietta Lacks raises sometimes uncomfortable questions with no clear-cut answers about whether people should be remunerated for their physical, genetic contributions to research and about the role of profit in science and is a story inextricably connected to the dark history of experimentation on African Americans, the birth of bioethics, and the legal battles over whether we control the stuff we're made of.

After attending Portland Community College and becoming a Veterinary Technician, she received a B.S. in biological sciences from Colorado State University, and an MFA in creative nonfiction from the University of Pittsburgh. She is a former vice president of the National Book Critics Circle She has taught creative writing and science journalism at the University of Pittsburgh, New York University, and the University of Memphis. She is a member of the American Society of Journalists and Authors, the National Association of Science Writers, and the National Book Critics Circle.

Skloot's award winning science writing has appeared in The New York Times Magazine; O, The Oprah Magazine; Discover; and many other publications. She specializes in narrative science writing and has explored a wide range of topics from goldfish surgery to food politics. She has worked as a correspondent for WNYC's Radiolab and PBS's NovaScienceNOW. In 2011, she co-edited The Best American Science Writing with her father, Floyd Skloot.