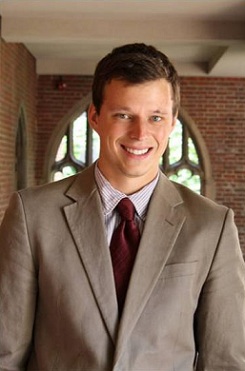 Partnerships for the Middle East and North Africa in 21st Century American Statecraft
JOSHUA W. WALKER
THURSDAY, APRIL 4, 2013
LUNCHEON 11:30 a.m.; LECTURE 12:00 p.m.
Joshua W. Walker is a 2012-2013 Council on Foreign Relations International Affairs Fellow currently serving at the U.S. State Department. As a senior adviser to the Office of the Secretary Global Partnership Initiative, Dr. Walker coordinates the Partners for a New Beginning initiative, which is a public-private network active in Algeria, Egypt, Indonesia, Jordan, Libya, Mauritania, Morocco, Pakistan, Tunisia, Turkey, and the Palestinian Territories.

Prior to this appointment Walker was a Transatlantic Fellow at the German Marshall Fund of the United States responsible for the Turkey program and Japan portfolio of the Asia team. Active in bridging the academic and policy worlds, Dr. Walker co-founded the Yale Journal of International Affairs, Young Professionals in Foreign Policy in New York, and the Project on Religion, Diplomacy, and International Relations at Princeton.

Joshua Walker has been a Foreign Policy Initiative Future Leader and Truman National Security Project fellow. He has been affiliated and taught at Brandeis University, George Mason University, Harvard Kennedy School, Middle East Technical University, Istanbul Sehir Merkez, Tokyo University Transatlantic Academy, Princeton University, University of Richmond, and Yale University.

Dr. Walker earned his Ph.D. in Politics and Public Policy with a specialization on International Relations and Security Studies at Princeton University. He holds a Master's degree in International Relations from Yale University and a Bachelor's degree from the University of Richmond. He was a Fulbright Fellow in Ankara, Turkey and has worked for the U.S. Embassy and State Department on Turkey.

Joshua Walker's Athenaeum lecture is sponsored by the Keck Center for International and Strategic Studies at Claremont McKenna College.