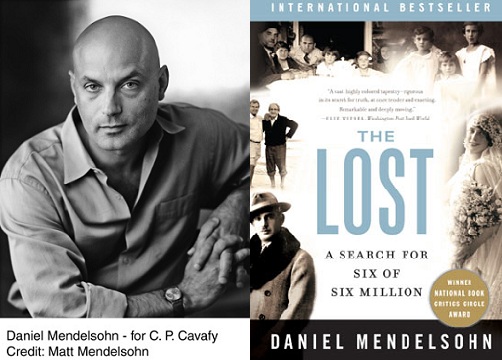 The Lost: A Search for Six of Six Million
DANIEL MENDELSOHN
THURSDAY, APRIL 4, 2013
Daniel Mendelsohn, an award-winning writer, critic, and author of the international bestseller The Lost: A Search for Six of Six Million, was born on Long Island and educated at the University of Virginia and at Princeton. Since 1991 his essays and reviews have appeared in many publications, most frequently in The New Yorker and The New York Review of Books. He has also been the weekly book critic for New Yorker and a frequent contributor to The New York Times Book Review, and is presently a Contributing Editor at Travel + Leisure.

The Lost, published by HarperCollins in 2006, won the National Books Critics Circle Award and the National Jewish Book Award in the United States, the Prix Médicis in France, among many other honors, and has been published in over fifteen languages. Other books include a memoir, The Elusive Embrace (1999), a New York Times Notable Book of the year and a Los Angeles Times Best Book of the Year; a collection of his reviews, How Beautiful It Is and How Easily It Can Be Broken (2008), a Publishers Weekly Best Book of the Year; and an acclaimed two-volume translation of the poetry of C. P. Cavafy (2009), also a Publishers Weekly Best Book of the Year.

Daniel Mendelsohn's honors include a Guggenheim Fellowship, the National Book Critics Circle Citation for Excellence in Book Reviewing, and the George Jean Nathan Prize for Drama Criticism. In 2008 he was named by The Economist as one of the best critics writing in the English language. Daniel Mendelsohn lives in New York City and teaches at Bard College.