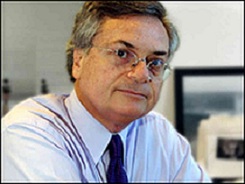 The End of Power
MOISES NAIM
TUESDAY, APRIL 9, 2013
LECTURE 6:45 p.m. PARENTS DINING ROOM
We know that power is shifting: from West to East and North to South, from presidential palaces to public squares, from once formidable corporate behemoths to nimble startups and, slowly but surely, from men to women. But power is not merely shifting and dispersing. It is also decaying. Those in power today are more constrained in what they can do with it and more at risk of losing it than ever before.

In The End of Power: From Boardrooms to Battlefields and Churches to States: Why Being in Charge Isn't What It Used to Be (2013), award-winning columnist and former Foreign Policy Editor Moisés Naím illuminates the struggle between once-dominant mega players and the new micro powers challenging them in every field of human endeavor. Drawing on provocative, original research, Naím shows how the antiestablishment drive of micro power scan topple tyrants, dislodge monopolies, and open remarkable new opportunities, but it can also lead to chaos and paralysis. Naím deftly covers the seismic changes underway in business, religion, education, within families, and in all matters of war and peace. Accessible and captivating, Naím offers a revolutionary look at the inevitable end of power — and how it will change your world.

Moisés Naím is a scholar at the Carnegie Endowment for International Peace and an internationally syndicated columnist. For over a decade he was the editor-in-chief of Foreign Policy magazine and under his leadership, the magazine was re-launched, won the National Magazine award for General Excellence three times and became one of the world's most influential publications in international affairs. Naím also served as Venezuela's Minister of Industry and Trade and as executive director of the World Bank. Naím holds a Ph.D.from MIT and lives in Washington, DC.

Moisés Naim's visit to campus is sponsored by the Keck Center for International and Strategic studies at Claremont McKenna College.