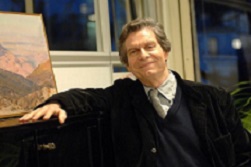 The Sovereign Debt Crisis in Europe and the Future of the Euro
GUY SORMAN
MONDAY, APRIL 15, 2013
LUNCHEON 11:30 a.m.; LECTURE 12:00 p.m.
Dr. Guy Sorman is a French professor, columnist, author, and public intellectual in economics and philosophy. His ideas about renewable energy and environmentalism, as expressed in his book
Progress and its Enemies
, are particularly controversial. Sorman is assertive in regard to human rights in China and in regard to democracy in many places including Turkey, Egypt, Iran, Chile, Poland, and Argentina.
In 1979, he founded a French NGO,
Action against Hunger (ACF)
and served as its president until 1990, when he became its Honorary President. He is the global advisor of the South Korean President. Sorman has held many government positions in France. After completing in 1969 his studies at both highly selective Institut d'Etude Politique and at the Ecole Nationale d'Administration, he taught economy at the elite university of Sciences Po Paris and in numerous international Universities (China, United States, Russia, Argentina). He left the public administration to focus on writing, teaching and publishing.
Sorman is the author of twenty books on contemporary affairs. He is a regular columnist for
Le Figaro
in France, the
Wall Street Journal
and
City Journal
(contributing editor ) in the United States,
Dong A
in Korea,
Fakt
in Poland,
La Nacion
in Argentina, and other foreign publications. Sorman taught economics at the Paris Institute of Political Sciences from 1970 to 2000. In 1985, he was a visiting scholar at Stanford University's Hoover Institution.
Sorman is also a member of the French National Commission for the Human Rights and the adjunct major and president of the Social and Economic Council of the city of Boulogne-Billancourt. He was also president of the strategy and futurology Committee for the French Prime Minister between 1995 and 1997.
Sorman's visit to campus is sponsored by the President's Leaders Forum.