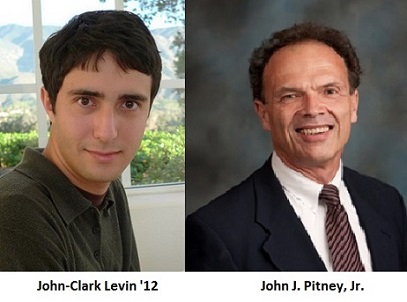 Private Anti-Piracy Navies: How Warships for Hire will Change Maritime Security
JOHN-CLARK LEVIN '12
JOHN J. PITNEY, JR.
TUESDAY, APRIL 23, 2013
LUNCHEON 11:30 a.m.; LECTURE 12:00 p.m.
After a romanticized heyday in the 17th and 18th centuries, maritime piracy was believed to be largely eradicated. Now, it's back. Since 2008, there has been a dramatic surge in pirate attacks, largely by pirates from the lawless nation of Somalia on the Horn of Africa. Heavily-armed Somali pirates now threaten a vast area of the Indian Ocean, including some of the most vital trade routes on the globe. They have hijacked ships, taken seamen hostage, and caused billions of dollars of economic disruption per year. The world's navies have attempted to suppress piracy, but are unable to secure the entire danger zone. So shipowners have hired private security companies to protect them. Some of these companies now operate their own armed escort vessels. The use of these so-called "private navies" entails legal, tactical, and logistical challenges which have yet to be resolved.

In this talk, John-Clark Levin '12 and Professor John J. Pitney, Jr. will discuss how their book seeks to help policymakers address those challenges. They will also share the inside story of how this book grew out of research Levin started while still a CMC student, and how current students can take their own research to the next level.

Professor John J. Pitney, Jr. is the Crocker Professor of Politics at Claremont McKenna College. Two-time winner of the Glenn R. Huntoon Teaching Award, he teaches one of CMC's most popular courses, the congress simulation. Pitney has written extensively on California politics, as well as the U.S. Congress and electoral politics. He is frequently quoted in the national media. One of his current research interests is the politics of autism.

John-Clark Levin graduated CMC in 2012, majoring in PPE and Linguistics. He was the recipient of the 2010-2011 Arthur R. Adams Fellowship in International and Strategic Studies at the Keck Center. His research for this fellowship focused on private maritime security companies being deployed to fight against Somali pirates, and later grew into the book Private Anti-Piracy Navies (2013). John-Clark also writes periodically for the Wall Street Journal and other publications. Recently, he appeared as a contestant on Jeopardy!, a link he now shares with Professor Pitney, who was on the show in the 1990s.