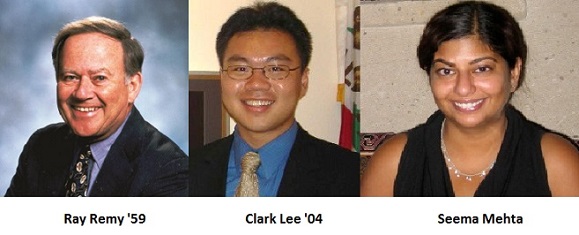 The Race for Los Angeles Mayor
CLARK LEE '04
SEEMA MEHTA
RAY REMY '59, moderator
WEDNESDAY, APRIL 24, 2013
LUNCHEON 11:30 a.m.; LECTURE 12:00 p.m.
Moderator: Ray Remy '59 has worked for the League of California Cities before becoming the executive director of the Southern California Association of Governments. During Mayor Tom Bradley's two terms as the mayor of Los Angeles, Mr. Remy served as deputy mayor and the mayor's chief of staff. For the next fourteen years he was the president of the Los Angeles Area Chamber of Commerce. Later he serves as the director for the largest department in state government, the Employment Development Department of the State and California.

Clark Lee '04 is the Political Director of the Los Angeles County Democratic Party (LACDP), the largest local Democratic Party entity in the nation, representing more than 2.4 million Democrats. He oversees endorsement, campaign, and communications operations. An award-winning campaign professional, Lee specializes in targeted communications, field operations, voter education, and voter rights advocacy. He has worked with many nonprofit organizations, government agencies, and political campaigns at presidential, gubernatorial, statewide, Congressional, legislative, and local levels as a staff member, consultant, or advisor since 2001. Among other roles, he also serves as Chair of the California Democratic Party Asian Pacific Islander Caucus and was a Democratic National Convention delegate for President Barack Obama in 2012. He has been named a "Rising Star" by the Campaigns & Elections magazine.

Seema Mehta, a political reporter for the Los Angeles Times, graduated from Syracuse University and previously worked at the Washington Post, the Associated Press, and the Syracuse Post-Standard. She is an East Coast native who came to California for an internship and swore she would leave after a year, never returning to the state except on vacation. Fifteen years later, she and her husband Mark live in Long Beach and she covers the reality show that is politics, while her husband edits actual reality shows. In addition to covering the 2013 mayoral race, Seema covered the 2012 and 2008 presidential contests and the 2010 gubernatorial election.

This talk is sponsored by the Rose Institute of State and Local Government as part of its Speaker Series.