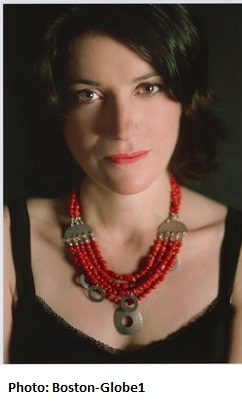 Politics, History, and Truth: The Armenian Genocide
CARLA GARAPEDIAN
THURSDAY, APRIL 25, 2013
April 24th marks the 98th commemoration year of the Armenian Genocide. After almost 100 years, why are these events still so controversial? Filmmaker Dr. Carla Garapedian looks at the intersection between history and politics in what is often called the "first genocide of the twentieth century."

The only American ever to anchor the famous BBC World News, Carla Garapedian earned her Ph.D. in international relations at the prestigious London School of Economics, before cutting her teeth as a correspondent for NBC and later being swept up by the BBC as a director and anchor.

Since leaving the BBC (where, among other stories, she exposed major faults in Europe's most dangerous nuclear reactors), she has cut a swath as an international documentary director, working for Hardcash Productions, the company that produced the Emmy award-winning film about women in Afghanistan, "Beneath the Veil." Her sequel, "Lifting the Veil," premiered in the US on the Sundance Channel in August 2003. In her film "Dying for the President" she made world headlines by sneaking into Chechnya to document Russian war crimes. More recent headlines surrounded her 2005 film, "My Friend the Mercenary" about the attempted coup in Equatorial Guinea, linked to Mark Thatcher and the notorious mercenary, Simon Mann.

Garapedian beat President Bush to the punch in exploring that other "axis of evil," North Korea, in the acclaimed documentary "Children of the Secret State" that details starvation, human rights abuses and cannibalism in that impoverished nation. In 2005, her film "Iran Undercover," about the student movement in Iran, won the prestigious Edward R. Murrow award, as part of the PBS Frontline World series.

In addition to anchoring for BBC World News, Garapedian has been a correspondent for NBC Sunrise, NBC Nightly News and CNBC financial news. She narrated the Armenian genocide film, "Voices from the Lake" by the acclaimed filmmaker, J.M. Hagopian, as well as co-writing his award-winning film "Germany and the Secret Genocide."

The headline about her in the LA Times Calendar section is probably the best description of her work so far - "Documenting Truth in Dangerous Places."