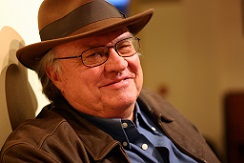 Yvor Winters' Wild West: Adventures in Poetry
KENNETH FIELDS
WEDNESDAY, APRIL 17, 2013
LUNCHEON 11:30 a.m.; LECTURE 12:00 p.m. PARENTS DINING ROOM
Kenneth Fields is a poet and critic whose most recent book of poems,
Classic Rough News
, is available from the University of Chicago Press. He is Professor of English at Stanford and has for many years taught young writers about the art of poetry. Other students he has taught about the history of English poetry, of American film and popular music. He is justly well-known on campus as a master-teacher and story-teller too. Long ago he studied American literature there with Yvor Winters (1900-1967) and edited an anthology on the history of the lyric with the teacher who was in all senses Fields's mentor. Winters was an extraordinary literary critic whose judgments were nothing if not sharp and direct. Fields, his last student, is a critic of catholic tastes and a reader of expansive sympathy.
Winters was also an important poet of the mid-twentieth century. Two of his most famous poems, "The Slow Pacific Swell" and "On a View of Pasadena from the Hills," recall his family home in La Crescenta, about 25 miles west of the CMC campus. Kenneth Fields comes to CMC to speak about Winters in Southern California. This talk is part of a series of talks on California writers sponsored by the Literature Department and the Gould Center.