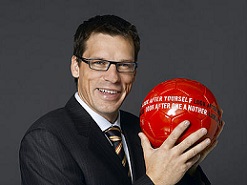 2013 Henry R. Kravis Prize in Leadership
2013 Henry R. Kravis Prize in Leadership Recipient
JOHANN OLAV KOSS
THURSDAY, APRIL 18, 2013
LUNCHEON 11:30 a.m.; LECTURE 12:00 p.m.
Norwegian speed-skating legend Johann Olav Koss made world headlines when he won three Gold Medals at the 1994 Lillehammer Olympic Games, breaking a total of 10 world records over the course of his career. Koss donated a large portion of his winnings to Olympic Aid, a fundraising organization created at Lillehammer, and challenged fellow athletes to do the same. After witnessing the potential of sport to effect change in the lives of children, Koss founded Right To Play in 2000, and has pioneered the Sport for Development movement worldwide. Koss has won numerous accolades, including honorary doctorates from the University of Calgary and Brock University, and was named "One of 100 Future Leaders of Tomorrow" by TIME magazine, and a Young Global Leader by the World Economic Forum. Koss completed his undergraduate medical training at the University of Queensland, and completed his executive MBA at the Joseph L. Rotman School of Management, University of Toronto.

Right To Play is a global organization, training local community leaders as coaches to deliver its programs in more than 20 countries affected by war, poverty, and disease. Its programs reach one million children and youth through weekly activities, and Right to Play has trained nearly 12,000 volunteer coaches and 5,000 Junior Leaders to help run its weekly programs. It also is supported by a network of more than 300 Athlete Ambassadors––professional and Olympic athletes from more than 40 countries, including ice hockey superstar Wayne Gretzky and retired U.S. basketball player Dikembe Mutombo.

Koss is the 2013 Recipient of the Henry R. Kravis Prize in Leadership. In its eighth year, The Kravis Prize identifies extraordinary leaders in the nonprofit sector and celebrates their accomplishments. It aspires to impact the nonprofit sector overall by lauding strong performance and sharing recipients' best practices with others. The Kravis Prize is presented and administered by Claremont McKenna College and Marie-Josée and Henry R. Kravis '67, a member of the CMC Board of Trustees. Mrs. Kravis is an economist and a senior fellow of the Hudson Institute; Mr. Kravis is the founding partner of Kohlberg Kravis Roberts & Co. The Kravis Prize also is affiliated with the Kravis Leadership Institute at CMC.