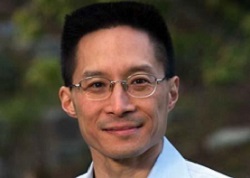 WELCOME TO THE CLASS OF 2017
Democracy is for Amateurs
ERIC LIU
THURSDAY, SEPTEMBER 12, 2013
Public Viewing: McKenna Auditorium 6:45 p.m.
Civic entrepreneur, author, and educator Eric Liu is this year's freshman class speaker. Liu served as both a speechwriter and Deputy Domestic Policy Advisor for President Bill Clinton. Liu has emerged as a prominent national voice on the ideals of citizenship, patriotism, and democracy. He is a frequent contributor to MSNBC, and is a regular correspondent for TIME.com and TheAtlantic.com.

Liu wrote The True Patriot (2007), a national bestselling book that argues progressives must reclaim patriotism, and founded the Patriot Network to advance the book's call for progressive patriotism. Previously, Liu authored Guiding Lights: The People Who Lead Us Toward Our Purpose in Life (2006), and The Accidental Asian: Notes of a Native Speaker (1999), a New York Times notable book. In 2002 the World Economic Forum named Liu one of the top 100 "Global Leaders of Tomorrow."

Liu recently founded Citizen University in an effort to combat the rising trend of what he calls "citizen detachment." According to Liu, government works best when ordinary Americans flex their citizen muscles and play a more active and participatory role in the political process.

This dinner is only open to freshman, but additional seating will be available in McKenna Auditorium for those wishing to hear the talk. Freshmen are automatically signed up for this dinner, and must contact the Athenaeum to cancel their reservation if they do not plan to attend.