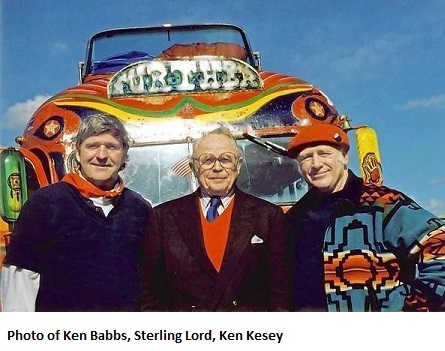 A Conversation with Sterling Lord: CANCELLED
STERLING LORD
THURSDAY, SEPTEMBER 19, 2013
DINNER: 6:00 p.m.; PROGRAM 6:45 p.m. Parents Dining Room
In 1951 a virtually unknown Jack Kerouac brought a manuscript of a book to Robert Giroux, the editor publisher who became the founder of Farrar, Straus & Giroux. It wasn't a traditional manuscript: it was a single, massive typed scroll, 119-foot-8-inch. Legend has it that Giroux rejected the book. Actually, he never even read it. He told the young author to retype it as a conventional manuscript. Kerouac then sought out a literary agent who could help him get the book published. He took the recommendation of Giroux and showed up at the one-room office of literary agent Sterling Lord. Lord found the book fascinating but selling it was not easy. Lord persisted for four years, after numerous rejections and the despair of the author. "I had no idea whether or not it was going to be a success or not. But I thought Kerouac's voice was different and should be heard." He eventually persuaded Viking Press to publish
On the Road
, which appeared in 1957 to a strong review in
The New York Times
.Literary history shifted. Since its publication, sales of the book in the United States have topped 5 million copies; the manuscript scroll was sold in 2001 at auction for $2.43 million.
Since representing Kerouac, Sterling Lord has become a dean of literary agents. In his new memoir, Lord of Publishing, Lord recounts his adventures in publishing and, above all, his love of writers and writing. He has represented Ken Kesey, Frank Deford, Terry Southern, Gloria Naylor, Nicholas Pileggi, Howard Fast, and Dick Francis among many other distinguished authors. He has, inevitably, turned down many, including Lyndon Johnson.
Lord came to the New York world of publishing from Burlington, Iowa, where his father managed a small store and taught his son the art of bookbinding. Starting as a magazine editor, Lord shifted to representing authors. He has been a prime mover and witness to the major changes in book publishing over the last half century.
Please join us for a fascinating conversation.