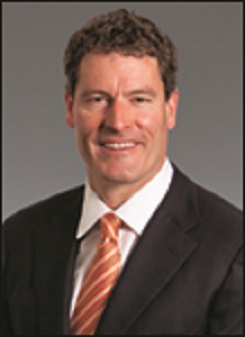 Lunch with a Leader: Commercial Banking
G. JEFFREY RECORDS, JR. '81
FRIDAY, OCTOBER 11, 2013
LUNCHEON 11:30 a.m.; PROGRAM 12:00 p.m.
G. Jeffrey Records, Jr. is Chairman and Chief Executive Officer of MidFirst Bank, a $10 billion commercial bank and mortgage servicer headquartered in Oklahoma City. MidFirst's primary asset focus is nationally diverse real estate lending, and its deposit gathering is predominantly through branches in Oklahoma and Arizona.

Outside of banking, Jeff has played various roles as an entrepreneur and developer. He is Co-founder and/or principal of: Hunter Roberts Construction Group based in New York; Guilford Re in Bermuda; Zaza Hotels in Texas; Rottet Studio design firm in New York, Houston and Los Angeles; and, the Oklahoma City Thunder. Jeff continues to serve the Oklahoma City community as an advocate and contributor for various charities.

After graduating from Claremont McKenna with a bachelor's in Economics in 1981, Jeff began his career at California Mortgage Services in Santa Ana, CA. He joined Midland Mortgage/MidFirst Bank in 1983, and became president and CEO in 1987. He resides in Oklahoma City with his wife, Marisa, and their two young sons. Jeff is a retired rugby player, terrible golfer, decent skier and improving parent.

Jeff's presentation is sponsored by the Robert Day School Distinguished Speaker Series.