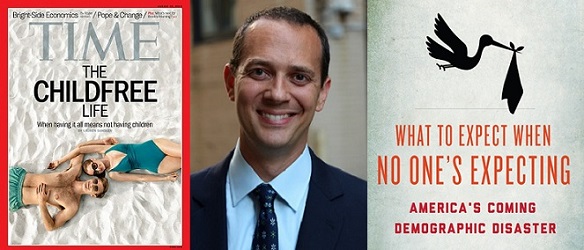 No More Babies: What to Expect When No One's Expecting
JONATHAN V. LAST
WEDNESDAY, OCTOBER 2, 2013
LUNCHEON 11:30 a.m.; PROGRAM 12:00 p.m.
"A powerful argument that the only thing worse than having children is not having them."
—P.J. O'Rourke
Jonathan V. Last is a senior writer at
The Weekly Standard
, a Washington-based political magazine and author of
What to Expect When No One's Expecting: America's Coming Demographic Disaster
(2013) (Encounter Books). His writings have been featured in
The Wall Street Journal, Los Angeles Times, The Washington Post, The Philadelphia Inquirer, The New York Post, The Claremont Review of Books, First Things
, and elsewhere.
He is a regular commentator on both television and radio and blogs at
JonathanLast.com
.
For years, we have been warned about the looming danger of overpopulation: people jostling for space on a planet that's busting at the seams and running out of oil and food and land and everything else. It's all bunk. The "population bomb" never exploded.
What to Expect When No One's Expecting
explains why the population implosion happened and how it is remaking culture, the economy, and politics both at home and around the world.