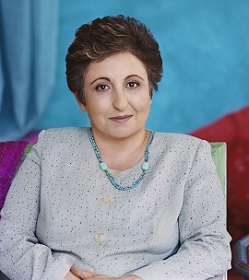 Human Rights and the Role of Faith in World Peace
SHIRIN EBADI
THURSDAY, OCTOBER 3, 2013
As an Iranian lawyer and human rights activist, Nobel Peace Prize laureate Shirin Ebadi has worked tirelessly for democracy and human rights, especially the rights of women and children, in her native country and beyond. In 2003, she became the first Muslim woman and first Iranian to receive the Nobel Peace Prize for her pioneering efforts as an activist. The Nobel committee praised Ebadi's character, noting that she "has stood up as a sound professional, a courageous person, and has never heeded the threats to her own safety."

While always interested in the law, Shirin Ebadi did not choose a life of activism. Instead, a life of activism found her. Ebadi was born in the city of Hamadan in 1947 to a family of academics. She earned a law degree from the University Tehran. In 1978, Ebadi, then a 31-year-old judge on the Tehran city court, helped storm the justice ministry during the Iranian Revolution to topple the shah and install Ayatollah Ruhollah Khomenei. In 1979, following the Iranian Revolution, Ebadi found her circumstances changed and she was forced to resign by the new regime. Though she was unable to return to her law practice until 1993, she began writing articles and books campaigning for a stronger legal status for women and children, becoming a champion of human rights under the strict Islamic regime. In her career as a lawyer, she has taken on numerous child abuse, minority rights, and anti-censorship cases. She also established two non-governmental organizations: the Society for Protecting the Rights of the Child (SPRC) and the Defenders of Human Rights Center (DHRC).

Ebadi has received numerous accolades and awards other than her Nobel Peace Prize. In 2004, Forbes magazine listed her as one of the "100 most powerful women in the world." She has also been feature in TIME magazine's as one of the world's "100 most Influential People."

As a writer, Ebadi has published several books and many articles, including but not limited to Democracy, Human Rights, and Islam in Modern Iran: Psychological, Social, and Cultural Perspectives (2003), as well as her memoir, Iran Awakening: A Memoir of Revolution and Hope (2006). Most recently, she wrote, The Golden Cage: Three Brothers, Three Choices, One Destiny (2011). In a review for the United Kingdom's The Independent, Lucy Popescu writes that this book is, "a testament to Ebadi's resilience and the courage of those, like her, who continue to peacefully fight against injustice."

Shirin Ebadi's Athenaeum address is part of CMC's Inauguration Series celebrating the presidency of Dr. Hiram Chodosh.