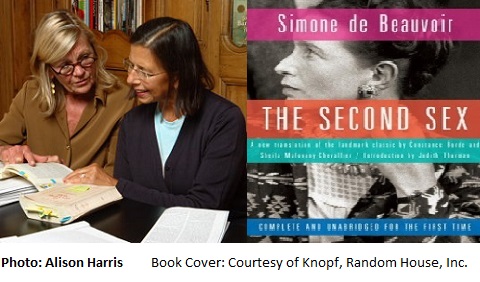 Revisiting Simone de Beauvoir in the 21st Century
SHEILA MALOVANY-CHEVALLIER
CONSTANCE BORDE
MONDAY, OCTOBER 7, 2013
In 1953, Beauvoir's monumental classic, The Second Sex, appeared in English missing approximately 15% of its text. Simone de Beauvoir was one of the most influential thinkers of her generation. A leader of the existentialist movement, she worked with Sartre on Les Temps Modernes. In The Second Sex, Beauvoir offers a complex meditation on the place of women in society through extensive interviews with women of every age and class. And yet, the English edition of this text was, for many years, only translated by a retired zoologist with college-level French. Sixty years later, the complete work is available in English due to the efforts of Sheila Malovany-Chevallier and Constance Borde.

Constance Borde and Sheila Malovany-Chevallier have lived in Paris for over forty years and were faculty members at the Institut d'Etudes Politiques. After attending Rutgers University together in the 1960s, Borde and Malovany-Chevallier became close friends and both received degrees in linguistics in Paris. They have co-authored numerous books in English and French on subjects ranging from grammar to politics to American cooking. Some of their most notable collaborations include, My English is French: Corrigez facilement vos erreurs les plus courantes en anglais (1983) and Focus on american democracy: Le systeme politique en version originale (1996). They also worked on a project for teaching English to children called Magic English, which still functions today.

Like their previous work, this translation of The Second Sex has been met with wide acclaim from critics and scholars alike. In an interview with Laurel Zuckerman, Borde and Malovany-Chevallier framed the significance of their work to modern women and partially, their motivation behind the translation, "what Beauvoir has to say about women is timeless. Her perspective is completely intellectual — not to say philosophical. It is not anecdotal; it lays the premise for a kind of thinking about freedom and equality that can be applied to any master-slave situation. Young or old, we can all benefit from the intellectual framework of her thinking."