Athenaeum Location
Print Newsletter
October 14, 2013
Vol. 29, No. 03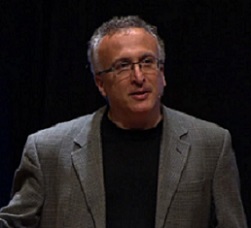 From Digital Campus to Connected Community: The Story of NEOhio's OneCommunity
LEV GONICK
MONDAY, OCTOBER 14, 2013
LUNCHEON 11:30 a.m.; PROGRAM 12:00 p.m.
While serving as the Vice President for Information Technology Services and Chief Information Officer at Case Western Reserve University in Cleveland, Ohio, in 2004, Lev Gonick and Case Western Reserve University founded what is today known as OneCommunity, the award-winning regional community network now reaching 22 counties in Northeast Ohio. In 2009, Case Western Reserve University began extending gigabit fiber to the home in Cleveland's inner city.

Lev currently serves on numerous community Boards including the Museum of Contemporary Art, Cleveland and the Bellefaire JCB for Children. He is co-chair of the CIO Executive Council's higher education committee and co-chair of Cisco's Higher Education Executive Exchange. He was the Advisory Board Chair of the 2008 New Media Consortium's Horizon Project and former Board Chair of the NMC. Gonick has received the 2010 National Association of Telecommunications Officers and Advisory (NATOA) annual award for Community Visionary of the Year.

Gonick received his Ph.D. in international political economy from York University in Ontario, Canada. Gonick is also well-known for a series of essays that predict annual trends in Information Technology in Higher Education, and he is a regular blogger and tweets under the handle lgonick. In his talk, he will discuss his work in building NEOhio's OneCommunity and reflect upon social entrepreneurship in technology, focusing on intellectual innovation, public innovation, and making a difference in all sectors of society.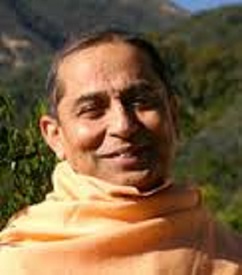 Vedanta, Vivekananda, and Human Excellence: Living a Balanced Life of Doing and Being
SWAMI SARVADEVANANDA
MONDAY, OCTOBER 14, 2013
Vedanta — the underlying philosophy of Hinduism revealed to the ancient sages of India—declares that we are, by our very nature, infinite, pure, free, and full of blissful consciousness. To realize this truth, and to manifest this "human excellence" through our every thought, word, and deed, is the goal of life. This can be achieved through balanced living, harmonizing the various facets of our being and dedicating ourselves to Truth: a life of yoga, in which knowledge, devotion, work, and meditation play equal roles. This ancient wisdom of the divinity and sinless nature of the human being, and how to manifest it in our lives, was brought into the daylight of modern times from the forgotten past of the ancient sages by Swami Vivekananda.

Swami Sarvadevananda, the Minister and Head of the Vedanta Society of Southern California since October 2012, is a monk of the esteemed Ramakrishna Order of India, and has been serving at the Vedanta Society since 1993. The Ramakrishna Order was established in India in 1886 by Swami Vivekananda, and currently has about 1,500 monks serving in centers all over India and the world. They dedicate their lives to the twin ideals of personal spiritual enlightenment and service to the Divine in all humanity. Their lives focus on scriptural studies, spiritual practices, contemplation, imparting spiritual and secular knowledge at educational institutes, as well as working in hospitals, clinics, orphanages, and old-age homes, in the spirit of serving God in man. They also serve during critical periods of natural and man-made disasters, such as famine, epidemic, fire, flood, earthquake, cyclone, and social disturbances.

After joining the Ramakrishna Order in 1965, Swami Sarvadevananda served at one of its major Indian educational and technical training institutions for over twenty years before being appointed the head of one of the Order's rural village centers, Sikra-Kulingram, in 1988. In Sikra he initiated literacy, health, relief, and rehabilitation programs for hundreds of underprivileged villagers.

In addition to his regular lectures and classes at the Vedanta Society, Swami Sarvadevananda addresses schools, colleges, and other religious groups throughout the United States. He serves on the Inter-religious Council of Southern California and the Hindu-Catholic Dialogue and Hindu-Episcopal Dialogue of Los Angeles, and is one of the directors of the Hindu Students' Organization at the University of Southern California.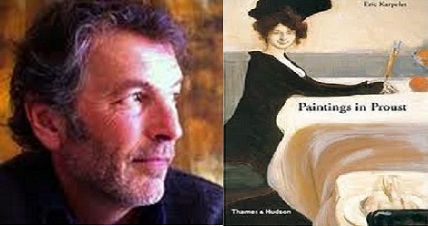 Was Proust Convinced? Art and the Power of Redemption
ERIC KARPELES
TUESDAY, OCTOBER 15, 2013
Eric Karpeles is a painter and the author of the remarkable
Paintings in Proust: A Visual Companion to In Search of Lost Time
(2008). In that book, Eric Karpeles identified and located the many paintings to which Proust makes reference; in other cases, where only a painter's name is mentioned to indicate a certain style or appearance, Karpeles chose a representative work to illustrate the impression that Proust sought to evoke.
http://www.nytimes.com/2008/11/02/arts/design/02kenn.html?pagewanted=all
.
Karpeles' own painting "The Sanctuary" was created in response to need of the HIV/AIDS community for a welcoming environment for mourning and the experience of loss. His expansive surround of painted surfaces traveled around the United States, ending with a three-month exhibit in New York's Grand Central Terminal. His "Driving to the Interior," a tribute to the art and vision of Elizabeth Bishop, is now installed at the University of North Carolina, Chapel Hill, and he created a non-denominational chapel space (commissioned by Mary and Laurance Rockefeller) for the New York headquarters of the HealthCare Chaplaincy.
Now as a Milosz Institute Fellow, Karpeles has turned his attention to a ground-breaking interpretive biography of Joseph Czapski, an eminent Polish artist, author, and critic and one of the very few Polish officers to survive the Katyn massacre. After World War II, Czapski remained in exile in the suburbs of Paris and founded "Kultura," one of the most influential intellectual journals of the 20th century.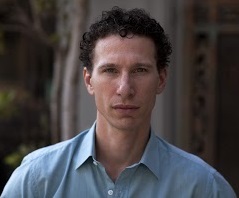 The Arab Uprisings Aren't Over
THANASSIS CAMBANIS
WEDNESDAY, OCTOBER 16, 2013
Thanassis Cambanis is a journalist who has covered the Middle East for a decade. He is currently writing a book about efforts to create a liberal order in Egypt after the overthrow of Hosni Mubarak. His first book, A Privilege to Die: Inside Hezbollah's Legions and Their Endless War Against Israel, was published in 2010. He writes "The Internationalist" column for The Boston Globe Ideas section, and is a correspondent for The Atlantic. Thanassis regularly contributes to The New York Times, The Globe (where he served as a foreign correspondent in Iraq and the Middle East), and other publications. He is a fellow at The Century Foundation in New York City. He lives in Beirut, Lebanon with his wife Anne Barnard, a reporter for The New York Times, and their two children.

Since the Sept. 11, 2001 attacks, Thanassis has covered America's "War on Terror" at home and abroad. In the federal courts he followed the rights-stripping and new prosecution strategies that targeted terrorism suspects, militant groups, and international finance. In the American political arena he covered the interventionist foreign policy consensus, and the norms that limited political engagement with groups considered foes of America. In the Middle East, he spent three years in Iraq covering society there in the aftermath of the US invasion. He traced the Islamist revival from Iraq to the Levant, covering the rise of the Muslim Brotherhood through its peak in Egypt last year. He covered the 2006 war between Israel and Lebanon, and the Arab uprisings that began in late 2010. He previously worked for the Associated Press in Greece and Indonesia.

While he lived in New York, Thanassis taught journalism and foreign policy at Columbia University's School of International and Public Affairs and the New School's Graduate Program in International Affairs in New York City. In 2009 Cambanis served as a Ferris Professor of Journalism at Princeton University, teaching a seminar of his own design called "Writing About War." Thanassis studied international affairs for a master's degree at Princeton University, and did his undergraduate work at the University of North Carolina at Chapel Hill.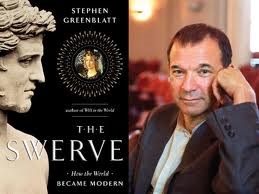 Lucretius and the Toleration of Intolerable Ideas
STEPHEN GREENBLATT
WEDNESDAY, OCTOBER 23, 2013
Stephen Greenblatt is a Pulitzer Prize winning American literary critic, theorist, and scholar. Regarded as one of the founders of New Historicism, a set of critical practices, which broadly focuses on understanding literature through its historical context and intellectual history through literature, Greenblatt became extremely influential in the 1990s when he introduced the term. In 2012, Professor Greenblatt's book, The Swerve: How the World Became Modern (2011), received the Pulitzer Prize for general nonfiction. The Puliter board cited The Swerve as "a provocative book arguing that an obscure work of philosophy, discovered nearly 600 years ago, changed the course of history by anticipating the science and sensibilities of today."

Before writing The Swerve, Professor Greenblatt was a prolific author and he wrote, edited, and published numerous articles and books, including but not limited to: Shakespeare's Freedom (2010); Cultural Mobility (2010); Will in the World (2004); Hamlet in Purgatory (2001); Co-gen. ed. The Norton Anthology of English Literature (2000); Practicing New Historicism (with Catherine Gallagher, 2000); Gen. ed. Norton Shakespeare (1997); ed. New World Encounters (1993); ed. Redrawing the Boundaries (1992); Marvelous Possessions (1991); Learning to Curse (1990); Shakespearean Negotiations (1988); Renaissance Self-Fashioning (1980).

His many honors include the Modern Language Association's James Russell Lowell Prize, for Shakespearean Negotiations: The Circulation of Social Energy in Renaissance England, the Distinguished Humanist Award from the Mellon Foundation, the Distinguished Teaching Award from the University of California, Berkeley. He is also a fellow of the American Academy of Arts and Sciences and the American Philosophical Society.

Currently, Stephen Greenblatt is the John Cogan University Professor of the Humanities at Harvard University. He earned his B.A. from Yale in 1964, his M.Phil from Cambridge in 1966, and his Ph.D. from Yale in 1969.

Stephen Greenblatt is the Ricardo J. Quinones Distinguished Lecturer for 2013. Sponsored by the Gould Center for Humanistic Studies, Greenblatt's Athenaeum talk centers on why and how the utterly unacceptable ideas reintroduced by the recovery of De rerum natura in 1417 managed to survive and be transmitted during pre-Enlightenment centuries that had no concept of toleration.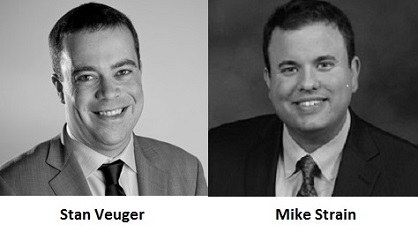 What You Need to Know about the Economy You Will Be Entering
MIKE STRAIN
STAN VEUGER
THURSDAY, OCTOBER 24, 2013
LUNCHEON 11:30 a.m.; PROGRAM 12:00 p.m.
Michael R. Strain and Stan Veuger are economists at the American Enterprise Institute and are speaking to college students across the country about how to prepare for a rapidly changing economy. In this increasingly tech-driven, complex, and global economy, what skills do you need to focus on in order to compete and succeed? What does the current federal fiscal position mean for you? How should you prepare for the long-term issues the economy is facing? How do the politics of the economy factor in? They will address these questions and more in the context of the current political environment in this discussion-based Ath talk. This program is sponsored by the Executive Council of the American Enterprise Institute's On Campus Program at CMC.

Michael R. Strain's academic research fits broadly within labor economics and applied microeconomics. Strain began his career in the research group of the Federal Reserve Bank of New York. Before joining AEI, he managed the New York Census Research Data Center, a U.S. Census Bureau research facility.

Stan Veuger is a resident scholar at AEI. His academic research focuses on political economy and applied microeconomics, and has been published in The Quarterly Journal of Economics. Before joining AEI, Dr. Veuger was a teaching fellow at the Harvard Kennedy School, Harvard College, and Universitat Pompeu Fabra. He is a board member of the Netherland-American Foundation in Washington and was a National Review Institute Washington Fellow.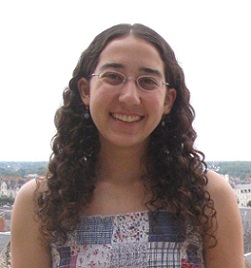 Conning Harvard
JULIE ZAUZMER
THURSDAY, OCTOBER 24, 2013
Julie Zauzmer began covering the case of Adam Wheeler, a student who faked his way into Harvard, when she was a freshman at Harvard herself. Her reporting led her to write a book, Conning Harvard: Adam Wheeler, the Con Artist Who Faked His Way into the Ivy League (2012), all about how Wheeler tricked the admissions office and bilked the university out of tens of thousands of dollars.

In her Athenaeum talk, Ms. Zauzmer will talk about Wheeler's story, its implications for the college admissions process and the pursuit of academic integrity, and the ethical and stylistic challenges she confronted while writing the book.

Julie served as the Managing Editor of The Harvard Crimson in 2012 and graduated in 2013. She is now a full-time reporter for The Philadelphia Inquirer.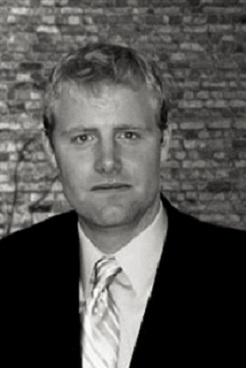 How To Get A Job Anywhere: The Nationalization of Our Liberal Arts Colleges
WILL BARNDT
FRIDAY, OCTOBER 25
LUNCHEON 11:30 a.m.; PROGRAM 12:00 p.m. PARENTS DINING ROOM
The Claremont Colleges — and other liberal arts colleges across the country — increasingly describe themselves as national liberal arts colleges. Why? How does thinking about liberal arts colleges as national institutions change what students are taught and how they are taught to think? How might it change what liberal arts colleges are? What, if anything, remains distinctive about the mission of the liberal arts college in contemporary America?

Will Barndt is Assistant Professor of Political Studies at Pitzer College. He received his B.A. from Colby College and his M.A. and Ph.D. from Princeton University. His teaching and research explore the social foundations of democratic practice in the Western Hemisphere, with particular attention to conservative and agrarian politics. Before arriving at Pitzer, he taught at Pomona College, the New Jersey Governor's School for Public Issues, and the University of California-Riverside, where he was named "Professor of the Year" in 2010 by the University Honors Program.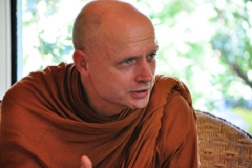 The Role of Religion: Apolitical but not Apathetic
AJAHN JAYASARO
FRIDAY, OCTOBER 25, 2013
PROGRAM 2:30 p.m.
Buddhist monks, leaders, nuns should be examples of calm and tolerance and remind everybody that the things that unite us far, far exceed the things that divide us.
-Phra Ajahn Jayasaro

Ajahn Jayasaro (originally Sean Michael Chiverton) was born on the Isle of Wight, England in 1958. Twenty years later he moved to Thailand and became a disciple of Ajahn Chah, one of the most renowned Buddhist spiritual leaders of this past century. In 1980 Ajahn Jayasaro became a fully ordained monk in the Thai Forest Tradition of Buddhism. He was appointed by elders of the monastic order to write the official biography of Ajahn Chah, and served as the Abbot of the Wat Pa Nanachat Monestary.

Thai Forest Tradition is a branch of Theravada Buddhism, which is believed to have remained closest to the original teachings of Buddha. The Forest Tradition strongly emphasizes the importance of meditation and reaching enlightenment. At Thai Forest Monasteries, monks follow Buddha's path to enlightenment, and embrace a life of discipline, renunciation of the physical world, and meditation.

Since 2003 Ajahn Jayasaro has lived in hermitage, but occasionally travels to teach and share his wisdom. Although the time he spends doing this is limited, he has emerged as a leader and advocate for incorporating many Therevada Buddhist principles into aspects of public life. In today's exceptionally polarized political climate, Jayasaro's message about the power of Buddhist teachings to harmonize conflicting groups in society is of great importance.

Ajahn Jayasaro comes to the Athenaeum as a guest of CMC alumna, Somruthai Prasarttongosoth, class of 1989.
ATHENAEUM ETIQUETTE
The Athenaeum serves as a gathering place where ideas, inquiry, and fellowship bring students, faculty, staff, other scholars, and nationally prominent speakers together.



Attendance at any event may be limited to persons associated with CMC, to the people who signed up for the dinner, or to the maximum number of people allowed by fire regulations.



On some occasions the speaker may address the group in another forum or the College may set up a video feed to handle an overflow crowd. All programs at the Athenaeum are filmed. Individuals attending should understand that their image might appear on the videotape.



House rules and common courtesy prohibit disruptive actions inside the building during an Athenaeum sponsored program.



Time allowing, there will be a period set aside for questions. Students will have priority during this portion of the program.



Guests are expected to dress appropriately in all dining rooms. Shorts, jeans, and t-shirts are not acceptable at dinner; more casual attire is acceptable for lunch and tea. No bare feet at any time.
MARIAN MINER COOK ATHENAEUM
RECORDING POLICY
It is the policy of the Marian Miner Cook Athenaeum that no lecture, appearance or performance by any speaker or performer at the Athenaeum is to be videotaped, audiotaped, or otherwise recorded and/or broadcast without the prior written permission of the relevant speaker, performer, or other authorized owner of the intellectual property rights to the event.



Anyone requesting permission to record an event is required to submit an "Event Recording Request Form" to Bonnie Snortum, the Director of the Athenaeum, at least 48 hours in advance of the relevant event.



It is understood that the speaker, the performer, the Athenaeum, and any other event sponsor, as appropriate, reserve all intellectual property rights for each Athenaeum event.



If you have any questions regarding this policy, please contact Bonnie Snortum at bsnortum@cmc.edu or at (909) 607-4180.