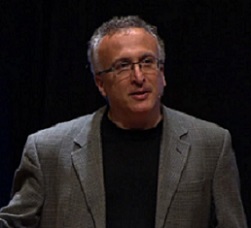 From Digital Campus to Connected Community: The Story of NEOhio's OneCommunity
LEV GONICK
MONDAY, OCTOBER 14, 2013
LUNCHEON 11:30 a.m.; PROGRAM 12:00 p.m.
While serving as the Vice President for Information Technology Services and Chief Information Officer at Case Western Reserve University in Cleveland, Ohio, in 2004, Lev Gonick and Case Western Reserve University founded what is today known as OneCommunity, the award-winning regional community network now reaching 22 counties in Northeast Ohio. In 2009, Case Western Reserve University began extending gigabit fiber to the home in Cleveland's inner city.

Lev currently serves on numerous community Boards including the Museum of Contemporary Art, Cleveland and the Bellefaire JCB for Children. He is co-chair of the CIO Executive Council's higher education committee and co-chair of Cisco's Higher Education Executive Exchange. He was the Advisory Board Chair of the 2008 New Media Consortium's Horizon Project and former Board Chair of the NMC. Gonick has received the 2010 National Association of Telecommunications Officers and Advisory (NATOA) annual award for Community Visionary of the Year.

Gonick received his Ph.D. in international political economy from York University in Ontario, Canada. Gonick is also well-known for a series of essays that predict annual trends in Information Technology in Higher Education, and he is a regular blogger and tweets under the handle lgonick. In his talk, he will discuss his work in building NEOhio's OneCommunity and reflect upon social entrepreneurship in technology, focusing on intellectual innovation, public innovation, and making a difference in all sectors of society.