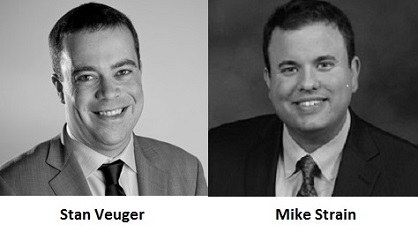 What You Need to Know about the Economy You Will Be Entering
MIKE STRAIN
STAN VEUGER
THURSDAY, OCTOBER 24, 2013
LUNCHEON 11:30 a.m.; PROGRAM 12:00 p.m.
Michael R. Strain and Stan Veuger are economists at the American Enterprise Institute and are speaking to college students across the country about how to prepare for a rapidly changing economy. In this increasingly tech-driven, complex, and global economy, what skills do you need to focus on in order to compete and succeed? What does the current federal fiscal position mean for you? How should you prepare for the long-term issues the economy is facing? How do the politics of the economy factor in? They will address these questions and more in the context of the current political environment in this discussion-based Ath talk. This program is sponsored by the Executive Council of the American Enterprise Institute's On Campus Program at CMC.

Michael R. Strain's academic research fits broadly within labor economics and applied microeconomics. Strain began his career in the research group of the Federal Reserve Bank of New York. Before joining AEI, he managed the New York Census Research Data Center, a U.S. Census Bureau research facility.

Stan Veuger is a resident scholar at AEI. His academic research focuses on political economy and applied microeconomics, and has been published in The Quarterly Journal of Economics. Before joining AEI, Dr. Veuger was a teaching fellow at the Harvard Kennedy School, Harvard College, and Universitat Pompeu Fabra. He is a board member of the Netherland-American Foundation in Washington and was a National Review Institute Washington Fellow.