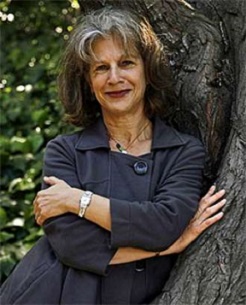 The Crooked Mirror: A Memoir of Polish-Jewish Reconciliation
LOUISE STEINMAN
MONDAY, OCTOBER 28, 2013
An estimated eighty percent of American Jews are of Polish decent. Most Jewish Poles who immigrated to the United States remember their homeland as a place of murderous anti-Semitism. Stories of fleeing violent hatred and persecution are passed down through many Jewish-American families, and to this day Poland is not regarded as a tolerant or welcoming country for Jews. In The Crooked Mirror: A Memoir of Polish-Jewish Reconciliation (2013), author Louise Steinman challenges assumptions about modern Polish anti-Semitism.

For centuries prior to World War II, Poland had been an epicenter of European Jewish life. Not only was Poland's Jewish population nearly extinguished during the Holocaust, but in the subsequent decades of communist rule it was taboo to discuss any of the country's rich Jewish history. It wasn't until recently that Poles and Jews began to honestly examine their entwined history. In her memoir, Steinman returns to a small Polish town where her family lived for generations, and becomes a witness and participant in Poland's reawakening to its Jewish past. This important book captures the blossoming of a vital new era of Polish-Jewish reconciliation.

Steinman is a writer and literary curator, and her work often deals with memory, history, and reconciliation. In 2002 she wrote the acclaimed memoir The Souvenir: A Daughter Discovers Her Father's War, and illuminates how war changed one generation and shaped another. Her first book, The Knowing Body: The Artist As Storyteller in Contemporary Performance (1995), is a critically acclaimed study of the performing arts. Her articles and essays have appeared in prominent national publications such as The New York Times and Washington Post.

The Athenaeum series "Jewish Renewal in Poland" is jointly sponsored by Hillel of the Claremont Colleges. The final event of this series will be the Ger Mandolin Orchestra on Tuesday, November 12th.