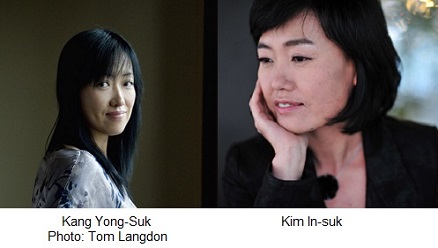 Encounter 2013
KIM IN-SUK
KANG YONG-SUK
BRUCE FULTON, translator
WEDNESDAY, NOVEMBER 13, 2013
LUNCHEON 11:30 a.m.; PROGRAM 12:00 p.m.
Authors Kim In-suk and Kang Yong-suk and translator Bruce Fulton will appear at several American universities in November 2013 for a series of bilingual readings and discussions. The tour begins at Stanford University and also includes literary events at Claremont McKenna College, the University of Wisconsin, and Brigham Young University, and in New York City. During these visits the American reading public will have the opportunity to meet two of contemporary Korea's most prominent fiction writers, hear samples of their works read in Korean and in English translation, engage in a dialog with the writers, and purchase copies of the authors' works in translation.

Kim In-suk was born in 1963 in Seoul and studied journalism at Yonsei University. A published writer at the age of 19, she issued her first story collection, Bloodline, in 1983, and her first novel, Flowers of Fire, in 1985. She is the recipient of the 2003 Yi Sang Literature Prize for "Sea and Butterfly," (2003) and the 2005 Hanguk ilbo Literature Prize for The Long Road (2010), one of the very few Korean fictional works involving the Korean diasporic experience in Australia. Today, building on a three-decade career in letters, she is one of Korea's senior writers, but an author whose literary sensibility and wide-ranging world view belie her age. Her most recent works are the story collection So Long, Elena (2009), for which she received the 2009 Tongin Literature Prize; the historical novel Sohyon (2010); and the novel Could You Lose Your Mind? (2011), which conflates natural and human disaster. She is represented in English in Koreana; the novella The Long Road, the anthology Reading Korea: 12 Contemporary Stories (2008), and in an ASIA Bilingual Edition of her story "Stab" (2013).

Kang Yong-suk was born in 1966 in Ch'unch'on, Kangwon Province, and studied creative writing at the Seoul Institute of the Arts. Since her debut in 1998 she has issued half a dozen story collections and novels and garnered several literary awards, including the 2006 Hanguk ilbo Literature Prize for her first novel, Rina, and the 2011 Kim Yu-jong Literature Prize. In 2009 she took part in the University of Iowa International Writing Program. Her 2011 story collection The Night He Lifts Weights, honored with a Book-of-the-Year award from the Korean Library Association, is strongly colored by urban noir, the stories set in locales within and without Korea. She is represented in English translation in Azalea 4.

Bruce Fulton is the co-translator, with Ju-Chan Fulton, of numerous volumes of modern Korean fiction, including the award-winning women's anthologies Words of Farewell: Stories by Korean Women Writers (Seal Press, 1989) and Wayfarer: New Writing by Korean Women (Women in Translation, 1997), and with Marshall R. Pihl, Land of Exile: Contemporary Korean Fiction, rev. and exp. ed. (M.E. Sharpe, 2007). The Fultons' most recent translations are River of Fire: Stories by O Chonghui (Columbia University Press, 2012) and How in Heaven's Name: A Novel of World War II by Cho Chongnae (MerwinAsia 2012). The Fultons have received several awards and fellowships for their translations, including a National Endowment for the Arts Translation Fellowship, the first ever given for a translation from the Korean; and a residency at the Banff International Literary Translation Centre, the first ever awarded to translators from any Asian language. Bruce Fulton is the inaugural holder of the Young-Bin Min Chair in Korean Literature and Literary Translation, Department of Asian Studies, University of British Columbia.