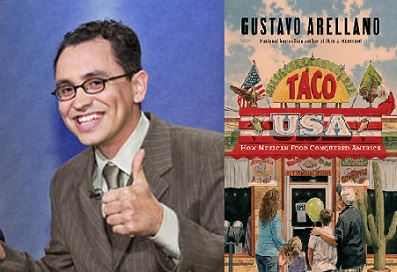 Ask a Mexican!
GUSTAVO ARELLANO
WEDNESDAY, NOVEMBER 13, 2013
Gustavo Arellano is the editor of OC Weekly, a popular alternative weekly newspaper in Orange County, author of Orange County: A Personal History (2010) and Taco USA: How Mexican Food Conquered America (2013), and a lecturer in the Chicana and Chicano Studies department at California State University, Fullerton.

He writes "¡Ask a Mexican!," a nationally syndicated column in which he answer questions about America's largest minority. The column has a weekly circulation of over 2 million in 39 newspapers across the United States. In 2006 and 2008, it won the award for Best Column from the Association of Alternative Weeklies. Scribner Press published the column in book form in May 2007.

Arellano is the recipient of the Los Angeles Press Club's 2007 President's Award and an Impacto Award from the National Hispanic Media Coalition, and was recognized by the California Latino Legislative Caucus with a 2008 Spirit Award for his "exceptional vision, creativity, and work ethic."

Gustavo Arellano's visit to CMC is sponsored by the Center for Writing and Public Discourse.