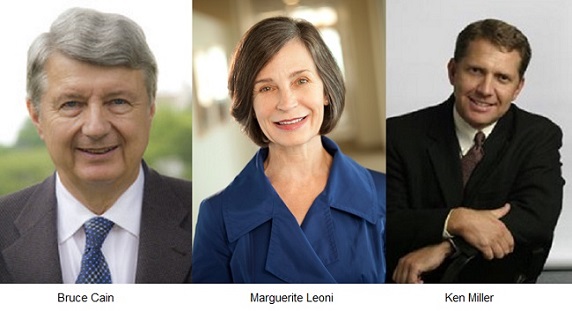 The Voting Rights Act after Shelby County v. Holder
BRUCE CAIN
MARGUERITE LEONI
KEN MILLER, moderator
TUESDAY, NOVEMBER 19
LUNCHEON 11:30 a.m.; PROGRAM 12:00 p.m.
In Shelby County v. Holder (2013), a sharply divided U.S. Supreme Court declared Section 4(b) of the Voting Rights Act unconstitutional. CMC Associate Professor of Government Ken Miller will moderate a discussion between Bruce Cain and Marguerite Leoni, two leading experts on the Voting Rights Act, on the history of the Act, the issues decided in this case, and the consequences of the court's ruling for elections in the United States. Sponsored by the Rose Institute of State and Local Government.

Bruce E. Cain is a Professor of Political Science at Stanford University and Director of the Bill Lane Center for the American West. He received a B.A. from Bowdoin College (1970), a B Phil. from Oxford University (1972) as a Rhodes Scholar, and a Ph.D. from Harvard University (1976). He previously taught at Caltech and U.C. Berkeley, where he served as Director of the Institute of Governmental Studies 1990-2007. He was elected the American Academy of Arts and Sciences in 2000 and has won awards for his research (Richard F. Fenno Prize, 1988), teaching (Caltech 1988 and U.C. Berkeley 2003) and public service (Zale Award for Outstanding Achievement in Policy Research and Public Service, 2000).

Marguerite Leoni is a partner at Nielsen Merksamer Parrinello Gross & Leoni LLP, specializing in law and civil litigation relating to elections, redistricting and voting rights questions, school district reorganization law, campaign, government and initiative/referendum law including appellate practice and extraordinary writ proceedings. Ms. Leoni is a nationally renowned redistricting and voting rights expert with expertise in administrative preclearance practice under Section 5 of the Federal Voting Rights Act and Section 5 enforcement litigation. Ms. Leoni graduated from the University of California, Berkeley. She received her law degree from the University of California, Hastings College of the Law. Ms. Leoni has been a guest lecturer on the Voting Rights Act at Hastings College of the Law and has spoken at numerous forums concerning voting rights and election issues.