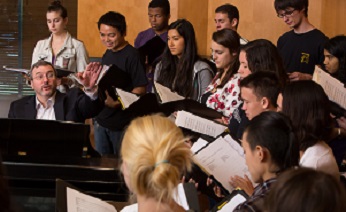 A Winter Holiday Concert
CHARLES KAMM, director
CLAREMONT CHAMBER CHOIR
TUESDAY, DECEMBER 3, 2013
The Athenaeum will once again be hosting its annual holiday celebration. We hope that you will join us for this classic Ath tradition as we welcome the holiday season and celebrate the end of a semester full of wonderful speakers and performances. A special holiday dinner will be be served prior to the concert. Please note that faculty and staff are encouraged to attend, and welcome to bring family.

The Chamber Choir of the Joint Music Program of Claremont McKenna, Harvey Mudd, Pitzer, and Scripps Colleges is an auditioned ensemble of 22 voices. Their program at the Athenaeum will include J.S. Bach's motet "Lobet den Herrn" (Praise the Lord), Arvo Part's work "an den wassern zu babel sassen wir und weinten" (By the waters of Babylon we sat down and wept, Psalm 137), Morton Laurisen's motet "O nata lux" (Born of light), as well as holiday favorites. The Claremont Chamber Choir is conducted by Charles W. Kamm, associate professor of music.

This event is being held in conjunction with the CCE's holiday toy drive, and we kindly request the participation of all guests. Unwrapped toys will be collected in the Athenaeum lobby before the dinner. If more convenient, donations of money will also be accepted. Bringing holiday cheer to the children in residence at the Loma Linda Children's Hospital is an important part of CMC's outreach to the community.