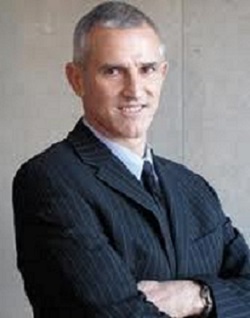 World AIDS Day 2013
ERIC SAWYER
WEDNESDAY, DECEMBER 4, 2013
Claremont recognizes World AIDS Day 2013 with a keynote address by Eric Sawyer. Sawyer has been involved in ground breaking HIV/AIDS activism for decades. As a founding member of ACT UP, Sawyer played a significant role in one of the most effective HIV/AIDS advocacy groups of the late 1980's and 1990's. The organization was instrumental in the effort to expedite the process of bringing affordable and potentially life saving drugs to market to save the lives of dying patients. Among many remarkable acts of civil disobedience, ACT UP most notably shut down the FDA, and once had members infiltrate and chain themselves to the VIP balcony of the New York Stock Exchange. Sawyer's focus within the organization was to address the crisis of HIV/AIDs patients losing their homes due to medical expenses. In 1990, Sawyer founded Housing Works, a non-profit organization dedicated exclusively to this issue.

Today, Eric Sawyer works for UNAIDS at the UN headquarters in New York City. Since effective HIV/AIDS treatment has come to market in the developed countries, Sawyer has focused on expanding access to life saving medication around the world.

Eric Sawyer's visit to Claremont is jointly sponsored by Elizabeth Wilmott, director of Health Education Outreach; Bertil Lindblad, senior advisor for international initiatives at Pomona College; and the Athenaeum.