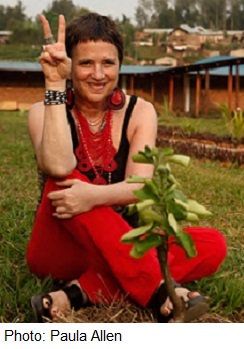 In the Body of Justice
EVE ENSLER
TUESDAY, FEBRUARY 4, 2014
LUNCHEON 11:30 a.m.; PROGRAM 12:00 p.m.
Eve Ensler is a Tony Award-winning playwright, author, performer, and activist. She is perhaps most well known as the author of The Vagina Monologues (1996), an episodic play featuring a variety of monologues on the feminine experience. Since its first production, The Vagina Monologues have been translated into over 48 languages, performed in over 140 countries, including sold-out runs at both Off-Broadway's Westside Theater and on London's West End, and made into an HBO film.

Ensler's has also written articles for The Guardian, Huffington Post, Washington Post, and the International Herald Tribune. Following her work with HBO, Ensler also produced the film What I Want My Words to Do to You, a documentary about the writing group she led at the Bedford Hills Correctional Facility for Women. The film premiered and won the Freedom of Expression Award at Sundance Film Festival and premiered nationally on PBS's "P.O.V." in December 2003.

Her awards include the Isabelle Stevenson Tony Award, a Guggenheim Fellowship in Playwriting, and an Obie, in addition to a number of honorary degrees. She was named one of US News & World Report's "Best Leaders" in association with the Center for Public Leadership (CPL) at Harvard Kennedy School and one of "125 Women Who Changed Our World" by Good Housekeeping magazine (2010). In 2011 she was named one of Newsweek's "150 Women Who Changed the World" and The Guardian's "100 Most Influential Women."

Ensler's experience performing The Vagina Monologues inspired her to create V-Day, a global activist movement to stop violence against women and girls, which raises funds and awareness through benefit productions of her award-winning play and other artistic works. In 2011, over 5,600 V-Day benefits took place. To date, the V-Day movement has raised over $90 million and educated millions. V-Day's newest campaign, ONE BILLION RISING launched in February 2012, and will culminate in a day of action on V-Day's 15th anniversary, February 14th, 2013 when V-Day activists all over the world will STRIKE, DANCE, and RISE. The V-Day movement with the support of UNICEF and the Foundation Panzi, opened the "City of Joy," a center for women survivors of gender violence in the Democratic Republic of Congo in 2011. This center provides Congolese women with opportunities for self-development and group therapy.

Eve Ensler's visit to campus is jointly sponsored by the Kravis Leadership Institute, the Berger Institute for Work, Family and Children, the Robert Day School, the Center for Human Rights Leadership, the Center for Writing and Public Discourse, and the Athenaeum. All the fees that fund this program at the Athenaeum will go to the "City of Joy" project.