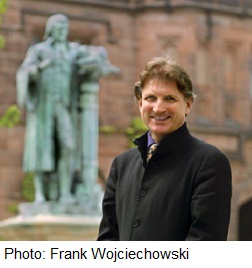 The European Marvell
NIGEL SMITH
THURSDAY, FEBRUARY 6, 2014
Nigel Smith is the William and Annie S. Paton Foundation Professor of Ancient and Modern Literature at Princeton University, where he is also the Co-Director of the Center for the Study of Books and Media. He is one of the preeminent specialists in early modern British literature, with a particular interest in literary and political writing of the seventeenth century.

Professor Smith's first two monographs, Perfection Proclaimed: Language and Literature in English Radical Religion 1640-1660 (Oxford UP, 1989) and Literature and Revolution in England, 1640-1660 (Yale UP, 1994), brought new attention to, and insight into, the literary, social, and cultural worlds of the Interregnum. More recently, he has illuminated the life and work of the major seventeenth-century poet Andrew Marvell, in a biography, Andrew Marvell: The Chameleon (Yale UP, 2010), as well as a densely annotated edition, The Poems of Andrew Marvell (Longman, 2003, pbk 2007), both of which were selected as Times Literary Supplement books of the year.

Smith has been a member of the Institute for Advanced Study and has received fellowships from the Guggenheim Foundation and the National Humanities Center. In addition to various other studies and editions of early modern English writing, Professor Smith has also written about the relationship between music and poetry and, with Paul Muldoon, co-founded the rock band Rackett.

Nigel Smith's talk is entitled "The European Marvell" and will address Marvell's interest in different kinds of European poetry, poets, and poetic roles. His visit to CMC is jointly sponsored by the department of literature and the Athenaeum.